What is wrong with everyone?
How is it that we're the only sane people? Is it supposed to be normal and sane to behave like this? Is it possible that
we
are the crazy weirdos?
I'm really starting to wonder.
Does the rest of world look at people like you and I and think "wow, what the fuck is wrong with them that they dont want to move in with some guy or get engaged after dating for one month?"


I don't know.

I think this would really change the way I experience life... if I suddenly realized that
that
was normal and I am abnormal. I would still do everything exactly the same, but I'd feel a little differently about it.
We should just move in together and get started on our
Golden Girls years now.

Yes, we should. Blanche on that show got so much ass. Even Bea Arthur got laid at least once. There's no reason we can't be hot single old ladies who never marry.
I seriously love that show.
Me too.
Oh I forgot to tell you... on Christmas day we pulled up in front of my grandparents' house and my parents were looking at the apartment building across the street because it looked like there were some empty apartments.
So out of nowhere my mom says "you and Lilith could get one of those apartments".
See! Everyone believes it. It is our fate to be single cat ladies... together. Without the cats of course. I hate cats. Instead of cats, we'll have beer.
We can get a chia pet or something.
I want that chia alarm clock
!
It doesn't actually grow anything.


It's a faux-chia?


I think they were giving it away as a special "chia anniversary" promotion.
Ch- ch- ch- chia!
I'm hungry now! ...I'm sorry.
Sorry?
I feel as though I should have made a better segue there. I don't want you think of me as the type of person who gets hungry from chia pets.
It's okay.
Thanks.
That clock is hilarious.
It plays "ch- ch- ch- chia!" as the alarm.
That would drive me crazy.

Well I'm not sure if it

actually

plays that. I just really really really hope it does because it would make me insanely happy to know that it played that.
We should get a chia pet and a pet rock.
And some sea monkeys.


Then we'd be set.
Remember our plan to marry John and his boyfriend so they could get greencards and we'd all live together in a
Three's Company
meets
Will and Grace
meets
Ned and Stacey
sitcom life?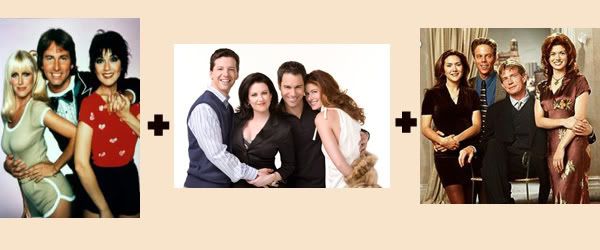 I just realized Debra Messing was in two of those shows. Too bad that didn't work out.

Ned and Stacey?


No. Our greencard marriages.

I'm sure we can find two other gay foreigners to marry.
We could put an ad on craigslist.
It could be like
Golden Girls
, only two of the girls are "girls".
It'll be like
Golden Girls
meets
Sex and the City
meets
Queer as Folk
meets...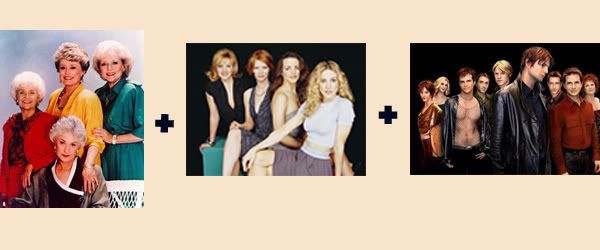 ...
um
...
...I don't know... what?


...Back Door Sluts, Volume Three?
Yes, but only volume three. That was really the best one.
Well, yeah. Volumes one and two suffered from poor direction, while the acting starts to falter by volume four.
Although I would still get the complete five-disc boxed set if it goes on sale on Amazon.
Just to have.
It would be a collector's item.
We'd have to get two. One to watch and one to keep sealed up in the original package to sell on Ebay in twenty years for five times the price. Because by then it will have become insanely popular again... you know, because of the remakes.
Hopefully they'll release a version with cast and crew commentary. Those are always so insightful.
Definitely. But you know my favorites of the special features are always the deleted scenes and the blooper reel.


I love us.


We are the coolest and bestest girls ever!

And totally modest.


We should definitely move in together.


Only if we can get the chia clock.


And the beer.



Note to readers:
If anyone would like to buy us the chia clock, it is available on
amazon.com
... Thank you!