I am a self-proclaimed
MILF
. For anyone out there who is socially retarded, a
MILF
is a "Mom I'd Like to Fuck" or more generally, a hot mom. I know you must think that it is somewhat conceited (okay it is very conceited) to call myself hot, but that is not what I'm doing. I'm not hotter than your average hot girl, not by far. What I am, is (maybe) hotter than your average mom. I'm a good ten years younger (and often ten pounds thinner) than the average mom in my local PTA. This
isn
't to say that they are all old, fat, ugly ladies, but simply that I am the "young, hot one". I'm not necessarily hotter than your average
MILF
, but I do qualify.
I am a
self-proclaimed
MILF
, but so far this claim has not been refuted.
More than just being "hot", what makes me a real
MILF
is that people want to fuck me. Now there is a big difference between being hot and being
fuckable
. That's not to say that they're mutually exclusive, but simply that they are not necessarily synonymous.
I love sex. I'm not saying I'm a nympho or freak or anything, just that I enjoy sex. Most of you are thinking, "well
doesn
't everyone enjoy sex?" No. Sadly enough not everyone enjoys sex. Many women do not like it (or want it) at all and while I find that to be both puzzling and tragic, it is a fact of life. I love sex. Not just that I am willing to have it, but I want it, I seek it out, and I enjoy the hell out of it. And that is what makes me so
fuckable
(and in turn, so "hot" I suppose). I am a mom that you would likely want to fuck, whether you were into
MILFs
or not.
In case it
hasn
't already been assumed, I am also a single mom. I have never been married; I have a "baby daddy". It's hard being single and a mom, especially when you love sex. I don't get to have it quite as often as I'd like. I don't always have the time necessary to devote to good sex.
A lot of men are scared to date mothers. I am not looking for a "father figure" for my daughter, but a lot of guys refuse to believe that and therefore won't consider dating me. Other guys assume that since I had a child once, that I am against abortion (for the record, I'm pro-choice) and therefore won't consider fucking me. Or even worse, they assume that I am looking to rope them into marriage/child support by getting pregnant again. This is so far from the truth. Sometimes, I even use three forms of birth control at one time! I have heard horror stories about evil, manipulative women and they have given all single mothers a bad name.
Even when I can find men that
aren
't afraid of the mom thing, there are still problems. I am a single mom, I work, I volunteer, I write, I do lots of stuff! It's not always easy to juggle all that and still find time for a social life at all, let alone time to date and/or fuck. Babysitters are expensive and not always available. It's not easy being a single mom if you still want to go out and drink and fuck and basically have a life (without neglecting your child or going on welfare). I'm just trying to figure things out for myself, like everyone else is and I make mistakes along the way.
Today I read an article in
New York magazine
about
MILFs
that kinda pissed me off. It was written by
Em and Lo
, neither of whom have children. I've always rather liked Em and Lo; in fact, we have been compared to them on more than one occasion. (Not by anyone that
matters
, but we did appreciate the comparison). So imagine my joy when I saw they had written an article entitled "Of
MILF
and Men". Then imagine my disappointment when I read it.
Just a few key lines that irked me:
The

MILF

is Stacy's Mom. She's the lady in the

Strippercize

class. She dresses like a Jersey mob wife, her eye titled into a perpetual wink...

...Maybe it's a looks thing, given that women can -- with the aid of

Pilates

and a discreet tuck -- turn back time to a sometimes disturbing degree...

...There's the good

MILF

: the one who is basically just a happy-go-lucky flirt with a lot of sexual confidence. She's the aforementioned

Stacy's Mom

, the subject of the

Fountains of Wayne

anthem of

MILFhood

-- is it her fault that her daughter's boyfriend has a crush? She's just got it going on! Then there are the

MILFs

who edge over into the

MILF

sister-category: the cougar. The punitive term implies an older woman as predator, a showy, sharp-clawed figure who turns the

MILF

hunter into the hunted. Think of it as a grown-up variant of the

Girls Gone Wild

phenomenon, except that while we may forgive an 18-year-old her lack of decorum -- she was drunk, Joe Francis is a manipulating

jackhole

, she wanted that baseball hat real bad -- her mom is supposed to know better...

...in the end we're suckers for the

MILF

: She may be glossy, she may be goofy, yet we can't help but cheer for her.



Read the entire article

here



The article seems to focus on older women who sleep with men in their twenties (not that there's anything wrong with that - if you can swing it, more power to ya). Their stereotypical image of the
MILF
is that of
Stifler's
mom from the
American Pie
movies or Mrs. Robinson from
The Graduate
, but that's not the truth.
MILFs
can be all ages and all types (we don't all look like "Jersey mob wives" -- a term which is itself another overused stereotype -- or have the need for a "discreet tuck"). I'm a single mother under thirty, who has mostly dated men my age or older (although, yeah there are always exceptions,
hee
). I'm a
MILF
because men want to fuck me. That's all. It has no bearing on my behavior or my state of mind. The term doesn't necessarily indicate any intention on my part to "stay young" or "stay sexy" despite motherhood. Who decided that the two were mutually exclusive in the first place?
There's something disarming about an archetype that lets the ladies take back the negligee, an image that suggests that motherhood is more than the death of desirability and the birth of bad haircuts.
Describing the idea that motherhood
isn't
the death of desirability as "disarming" is a sexist, outdated opinion in the first place.
I'm sure Em and Lo think they're embracing the idea of mothers who maintain their sexiness (even though they simultaneously applaud them and accuse them of giving in to objectification and a "self-destructive form of female-chauvinist piggery"). What they're really doing is perpetuating a myth about mothers: they're either old and
unsexy
; or they're "afraid of seeming past their prime" and therefore act/look ridiculous to avoid this.
How bout this: Mothers are people, not
caricatures
. Some people are sexy, some aren't. Period. If you're a mom and people want to fuck you -- you're a
MILF
. That's all it takes. It's a compliment, not a character flaw.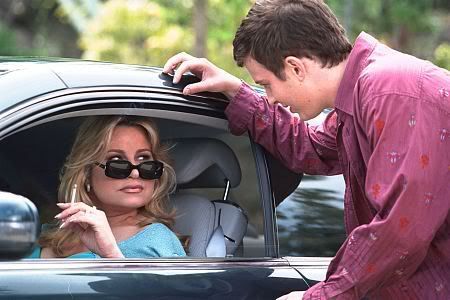 The hilarious Jennifer Coolidge as one of our generation's
most famous

fictitious

MILFs

, "

Stifler's

Mom"

(

American Pie 2

)