We're confused by Tyra Banks. She says and does so many contradictory things. We think that she
thinks
she's doing good things for other women. We think she really does try to be a good role model. We don't think that her attempts are always very successful. But judge for yourself.


She had a doctor perform a sonogram on her talk show to prove that her breasts are real
You could argue that Tyra was trying to show women that she didn't alter herself to conform to a standard of beauty, and that she was making a statement about the tendency of people (especially women with other women) to judge, make assumptions, and jump to conclusions about the appearance of others. But at the same time, doesn't it also send out the message that Tyra is somehow superior because she's 'naturally' prettier? What am I supposed to get out of it if I'm a woman who
does have implants
, or who doesn't but doesn't have naturally model-perfect breasts either?


After tabloids caught her in a bathing suit and accused her of getting fat, she made an angry, tearful statement about body image on her talk show and posed in a similar suit for the cover of People magazine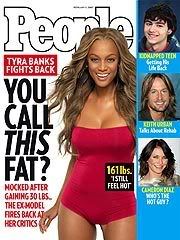 When some tabloids published photos of Tyra on vacation wearing a bathing suit and looking like she had gained some weight, it set off a frenzy of "Tyra's Fat!" headlines. In response, Tyra appeared on her talk show wearing the same swimsuit she was photographed in. She talked about how the photos were doctored, taken from a bad angle, etc., and then went on to make an emotional statement about body image, self-esteem, and accepting yourself. In the
People article
, she made the point that many girls and women have told her that they look up to her and like the fact that she isn't as thin as many other models and celebrities, so the flood of criticism of "Tyra's fat body" could negatively impact some of them as well.
We think she was trying to show that it's not such a big deal to gain some weight as you get older, and that being called fat is not exactly the end of the world. Seeing a supermodel getting upset about being judged on her looks probably made some women feel better about their issues by reminding them that everyone has their own insecurities. On the other hand, hearing a supermodel who currently produces a modeling competition crying and getting pissed off about being judged on her looks probably made some women pretty pissed off themselves. Throughout her entire career, Tyra has profited from her looks and from an industry that makes a major contribution towards making women feel bad about themselves. We wouldn't blame anyone if they had a hard time feeling too much sympathy for Tyra for being a victim of a problem that she helped to create.


She recreated her cover photo from the Sports Illustrated swimsuit issue on its 10th anniversary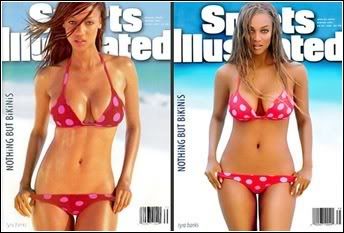 Not too long after the "fat" controversy, Tyra staged a photo shoot to recreate the photo of her that appeared on the cover of the Sports Illustrated swimsuit edition 10 years ago. Apparently she felt the need to announce to the world that she is still sexy and thought that this would be better than your run-of-the-mill press release. She claimed that she was doing it "in honor of
Black History Month
" since her being the first black woman to appear on the cover was a historic and groundbreaking moment. "It enabled young women of color to realize that they can dream big." Move over Rosa Parks, Tyra Banks is in a tiny bikini! (Okay, we're kidding. Anything that breaks ground and pushes boundaries in the right direction is great, and if it did have a positive effect on some women and girls then that's great too.) But since fabric had to be added to the bikini in order for her to
fit into it again
, and the final photo ended up looking very airbrushed, we're left wondering exactly what she really hoped to accomplish, especially considering her claims that she has too much self-esteem to care what people think of her body.
For a segment on her talk show, she went "undercover" in a fat suit to expose discrimination against overweight people, and then cried about how difficult it was to be treated badly for not being thin and beautiful
Tyra's experiences as a 'fat girl' were apparently very eye-opening for her--she started crying while describing the way she was treated and had to be comforted by the women who were appearing on her show to talk about their own (real and everyday) experiences. But isn't this also pretty patronizing? Do overweight women really need Tyra Banks to validate for them that yes, it is hard to be fat, I wore a fat suit for one day so I would know? But hey, don't worry--maybe someday a plus-sized model will actually make it into the top five of an America's Next Top Model cycle.
A recent episode of America's Next Top Model featured a challenge where contestants had to pose as murder victims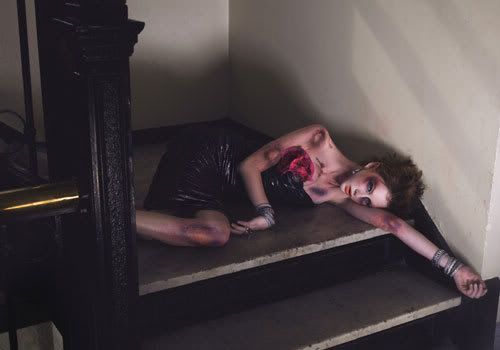 The contestants on the Tyra-produced ANTM were recently given the challenge of 'making death beautiful' by posing as victims of a variety of different crimes, like electrocution, organ theft and decapitation. Hot! We really appreciate this effort, since violence is not nearly glamorized enough in our society. There is absolutely nothing beautiful or sexy about young women being stabbed, drowned, or beaten to death. We think it's enough that the point of the show is already to judge women for not being pretty/sexy/skinny/fierce enough. Does the 'dying to be beautiful' message really need to be so blatant?
If Tyra really wanted to make a difference for other women, couldn't she use her money and fame and influence to try to reform the modeling industry rather than reinforcing the same tired old standards and stereotypes? When she was accused of being fat, couldn't she let her statements about being okay with her body and happy with herself stand, rather than having to run out and prove that she could still fit into her bikini from ten years ago? Talk about a mixed message. Although really, I guess all it proves is that she's human and she does have insecurities and she doesn't want to be thought of as less beautiful than she was before. And that's all okay and normal and you can't really fault her too much for any of it. Hopefully she'll continue to learn from her mistakes and possibly begin to think differently about modeling and standards of beauty now that she's gotten a few glimpses of it from the "other side". We'd love to see what Tyra's up to in ten more years. We're betting she'll have better things to do than try to squeeze herself into a teeny weeny polka dot bikini.*
*I apologize to anyone who now has ''she wore an itsy bitsy teeny weeny yellow polka dot bikini..." stuck in their heads. I know. I hate that song too. And I hate those damn commercials with that dumb bitch eating
yogurt on the beach
. I'm sorry. If it makes you feel any better, it's stuck in my head now too. Damn it.