Tonight the ESC is going to support 'the Planned Parenthood' (I love throwing a 'the' in there, it just makes it more fun to say)... at the 4th annual
Summer, Sex and Spirits
event!
I mean, it doesn't get much more awesome than this... Not only are they combining three of our favorite things (summer, sex, and spirits), but they're also combining two of our favorite 'places':
Planned Parenthood
and the
Museum of Sex
!
Tonight between 7 - 10 pm the ESC will be partying it up at the Museum of Sex and supporting
Planned Parenthood of New York City
by drinking and looking at sex-stuff (our favorite ways to support any good cause). All proceeds go to benefit Planned Parenthood of New York City's healthcare services, education programs, and legislative work. And you know how we feel about
that
!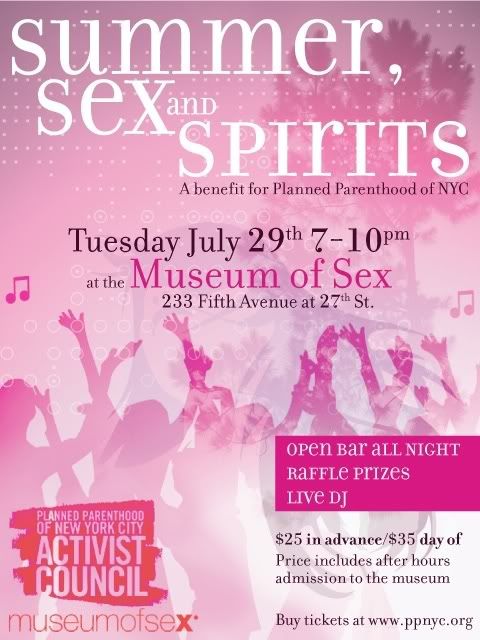 We originally intended to write this blog entry in order to promote this party, however a recent visit to their website indicates that this event has been sold out. Yay them! (We're not sure if that means officially 'sold out' or just that advanced tickets are not longer being sold, so you can contact
activists@ppnyc.org
with questions about the event or other ways you can support Planned Parenthood).
Related Posts: