A while back we walked very slowly against breast cancer in the
Race for the Cure
and wondered what else evil sluts like us could do to make the world a better place. Well apparently, some people
have
found a charitable outlet for their evil slutty ways.
We've already written about the
World Naked Bike Ride
(to raise awareness about the dominance of car culture and oil dependence) and
Sex, Wine and Chocolate
(a sex-positive cabaret fundraiser). Check out some more of our favorite ways of using that evil slutty energy for a good cause. (Of course, the rest of the world isn't always too happy about that, as you'll see).
Shotgun Willie's
(Colorado's #1 gentleman's club) sponsors an annual charity golf tournament to benefit breast cancer, with strippers serving as caddies to the golfers. This year there was a little bit of a controversy when their event
overlapped
with the Gold Crown Junior Golf Association (for children age 7-12). Oops.
As part of the
Strip2Clothe
campaign, Virgin Mobile intended to help clothe homeless youth by having people post videos of themselves stripping. The National Network for Youth recently declined to partner with Virgin after protests from member charities, so the totally cool and ironic "Strip2Clothe" has become the boring "
Blank2Clothe
":
At BLANK2CLOTHE, almost any verb goes - whether it be Skydive2Clothe, Yodel2Clothe, Bark2Clothe, or Contort2Clothe. You choose how you want to donate new clothing. Just print the Blank2Clothe sign, fill in the blank with what you're going to do, hold it up for the world to see, and DO YOUR THING. For every approved video posted, an item of new clothing will be donated to a homeless youth. For every five people who watch your video, we'll donate another piece of new clothing. So get creative! The more people who watch your video, the more new clothing we donate. However, inappropriate behavior, nudity, profanity, and any videos in bad taste will not

be posted.


We're
really
really
upset that we missed this year's annual
Masturbate-a-thon
, which is... exactly what it sounds like... and funds sex education and sexual safety.
Panties For Peace
is a campaign launched by a peace activist group Lanna Action for Burma, in which underwear is mailed to Burma's foreign missions in other countries in order to pressure the Burmese government toward democratic reform. Why underwear? Apparently because of the popular superstition that touching panties will eliminate one's powers. Slutty
and
symbolic. Nice.
And of course, we all know how much animal rights groups like PETA like to get naked! Like putting a naked
pregnant woman in a cage
to protest the use of gestation crates for mother pigs... the "
Running of the Nudes
" in Pamplona to protest the abuse of bulls... and of course, their most famous "Rather Go
Naked
Than Wear Fur" campaign.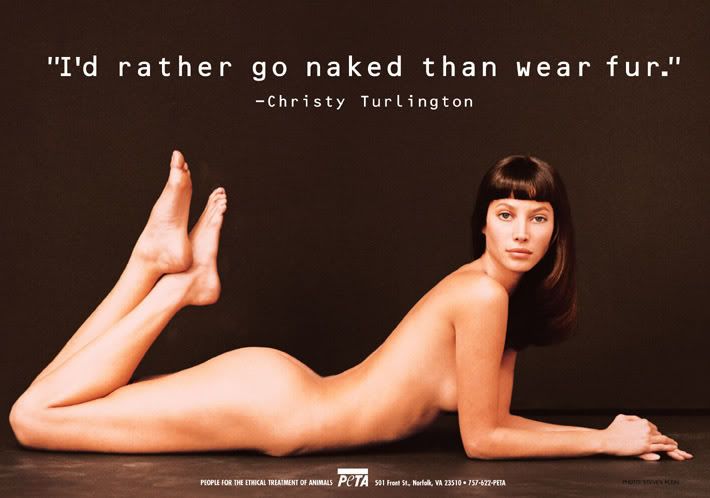 So we were trying to figure out how
we
could use our um, natural strengths, to do some good.
There are plenty of "dance-a-thons", but why not an
exotic
dance-a-thon? And instead of a typical charity auction where men and women are "sold" for an evening, why don't we hear more about
BDSM Slave auctions
?
We all remember those
magazine subscription
fundraising drives that schools would always do... What about all those racier titles? Has there ever been a adult-magazine subscription fundraiser drive? (And we're not talking about that bullshit controversy over
Asimov's Science Fiction
in 2004, we're talking about
actual
adult magazines, you know the ones with naked pictures!)
Or how about taking inspiration from John Lennon and Yoko Ono's
Bed-Ins for Peace
and have a different kind of Bed-In. "Fucking for peace" sounds like it could be huge.
We're going to keep brainstorming... but in the meantime, if you have any ideas let us know!
Related Posts: