On Tuesday night the Evil Slut Clique went to the
Museum of Sex
to support
Planned Parenthood of NYC
... It was their 4th annual
Summer, Sex and Spirits
and we certainly had a lot of um... sex and spirits? Before we spill all the silly details of our night out, we wanted to just take a moment to remain everyone why it is so important to support Planned Parenthood.
~WHY YOU SHOULD SUPPORT PLANNED PARENTHOOD~
Now of course, if you're pro-choice and think that
all
women should have access to safe, affordable abortion... then that's enough of a reason to support Planned Parenthood. If you realize that abstinence-only education is useless and that people need access to contraception and information on safe sex practices in order to protect themselves from disease and unplanned pregnancy... then that's enough of a reason to support Planned Parenthood. However, it's important to remember that abortion and contraception are still only a small percentage of the services offered at Planned Parenthood clinics.
The

Planned Parenthood Federation of America

(PPFA) is the nation's leading women's health care provider, educator, and advocate, serving women, men, teens, and families. For more than 90 years, we've done more than any other organization in the United States to improve women's health and safety, prevent unintended pregnancies, and advance the right and ability of individuals and families to make informed and responsible choices.


Planned Parenthood provides quality health care and services. Planned Parenthood's 860 affiliate health centers, run by committed professional staff, provide the highest quality family planning and reproductive health care to women, men, and teens across the country. To meet the needs of the millions of Americans who rely on us, Planned Parenthood continues to expand — offering online health services, opening express clinics in shopping malls, and using mobile clinics to reach underserved communities.

Planned Parenthood offers medically accurate information. Planned Parenthood educates young men and women, parents, and families about how to protect their health and the health of their loved ones. Parents know that the best foundation for their children's success is a good education. When it comes to sexual health, Planned Parenthood provides what parents want for their children — medically accurate, comprehensive, and age-appropriate information to guide them through a lifetime of choices.

Planned Parenthood advances effective health policies. Planned Parenthood works in Washington, DC, and in all 50 states to refocus the public dialogue on positive policies that address the real health priorities of individuals and families. Planned Parenthood's nearly four million activists, supporters, and donors encourage legislators and other policymakers to protect the sexual and reproductive health and rights of all women and men. We also work with allies in other countries to help protect the sexual and reproductive health and rights of women and men worldwide.
Okay, now that we got
that
out of the way... let's get to the fun stuff! The
sex
! Yeah, so we didn't actually get to
have
any sex at this fundraiser (lame!) but we did get to see a lot of it!
We, being a little bit obsessive compulsive,
had
to stay and watch the entire 'Celebrity Porn' video loop (part of the
ACTION: Sex and the Moving Image
exhibit) from start to finish. We saw part of the infamous Rob Lowe sex tape (well, okay, that one might only be
infamous
to readers of a certain age). Let's just say that if you want to see Rob Lowe in an actually
sexy
sex scene, just go rent
About Last Night...
. Other non-sexy sex tapes included
John Wayne Bobbitt: Uncut
(which deserves a little credit just for the title), the Tonya Harding/Jeff Gillooly self-made porn, the incredibly boring
One Night in Paris
, Pamela Anderson/Tommy Lee, and some weird Colin Farrell sex tape (in which he seems to have been wearing the camera on his stomach, that's how bizarre and not sexy the angles are in that video).
There were a lot of pretty well-known (we are all about
celebrity gossip
, duh) sex tapes that didn't make it into the reel. As much as we don't actually
want
to see some of these, we were still a little bit disappointed that they were not included:
Pamela Anderson/

Bret Michaels

Fred Durst
Verne Troyer
Dustin Diamond
Kelsey Grammar


One Night in Chyna

(we think everyone should see Chyna's little bitty penis!)

We also had a lot of fun watching "sexy" scenes from various movies. We put "sexy" in quotes because some of them were not sexy at all... some of them weren't even sexual. It's almost as if their only necessary criteria was there being boobies in it. And there were a lot of way more sexy scenes not included (for instance, the aforementioned
About Last Night...
, the awesomely kinky
Secretary
or my personal favorite
True Romance
). Of course, they did have some awesome classic sex scenes in there, including
Fatal Attraction
and
Unfaithful
. However, if you really want the best, check out
this
(or for a laugh
this
).
We did learn a lot about sex at the Museum of Sex. Of course, we already knew
a lot
about sex, but there's always room to learn more.
-
Paris Hilton
gives a lousy blowjob (yeah we pretty much had already assumed that, but now we
know
it - listen Paris, just staring at it, giggling and smiling, is not enough).
-Animals have threesomes too. (See... it's only natural!)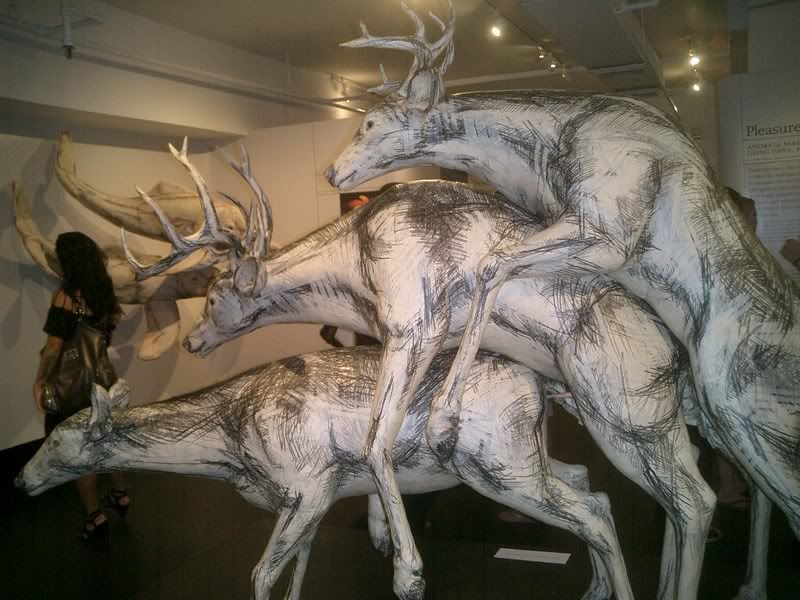 Ménage à trois
-People born under the sign of Pisces are naturally
submissive
in bed.
-Sex dolls
look
kind of realistic (we don't mean those silly inflatable ones), but still feel pretty artificial. And yes, I felt up the sex doll's boobs and put my hand inside the sex doll's vagina. I feel so so dirty. I can't imagine ever wanting to put a penis in there. You know, if I had a penis... okay, moving on...
-Pandas are into porn. Yes!
panda porn
!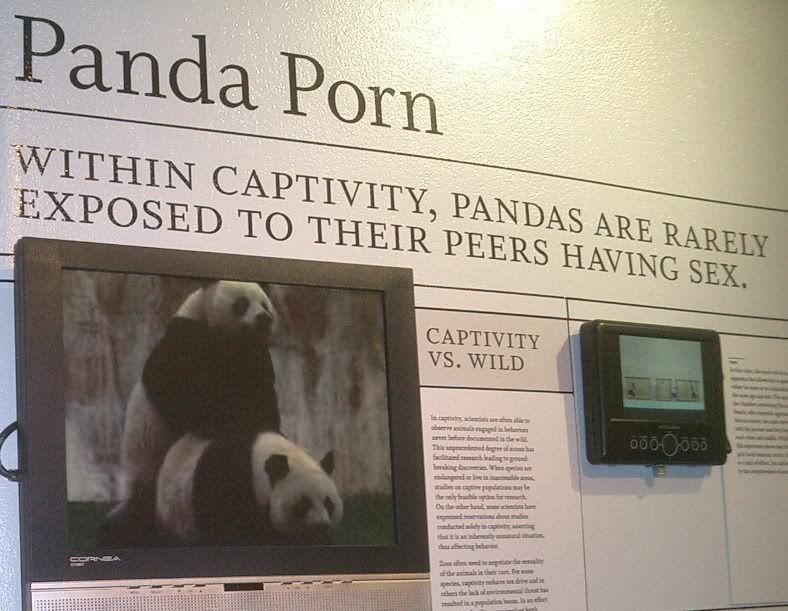 -You can win an Ig Nobel Prize by witnessing a mallard duck engaging in an act of homosexual necrophilia. Oh we also learned what the
Ig Nobel Prize
is.
(We're already working on our entry for next year).
-Even though the term "sex machine" sounds awesome, an actual
sex machine
is a bit terrifying.
-The black rhino has a really really scary penis.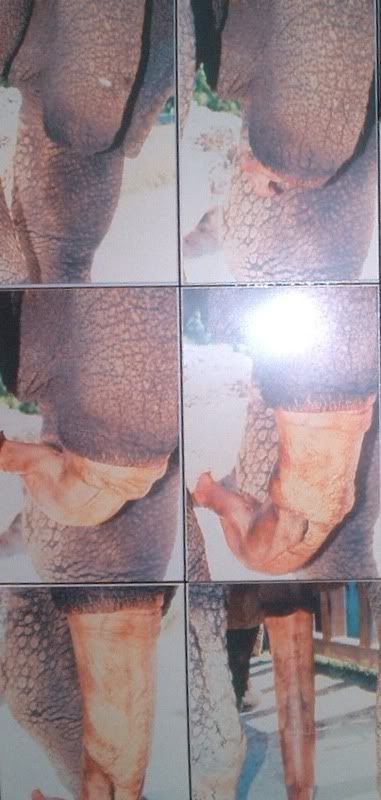 He's hung like a black rhino.
~STUFF WE ALREADY KNEW~

-How to give a good blow job. (We are experts at this. Someday we may share our vast knowledge. Or not).
We recommend that Paris Hilton check out this instructional video.
-There's very little that can shock us anymore.
-James Spader is creepy in every role he plays.
Awesomely
creepy.
-People make funny faces when orgasming. Like, duh.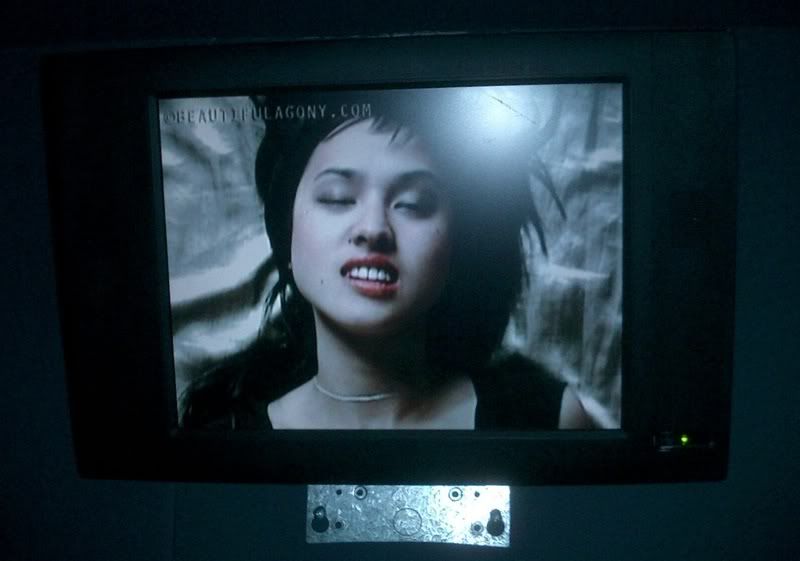 -A lot of free wine will make you very very drunk. And then very very hungover.
-People who go to Planned Parenthood fundraisers at the Museum of Sex are cool.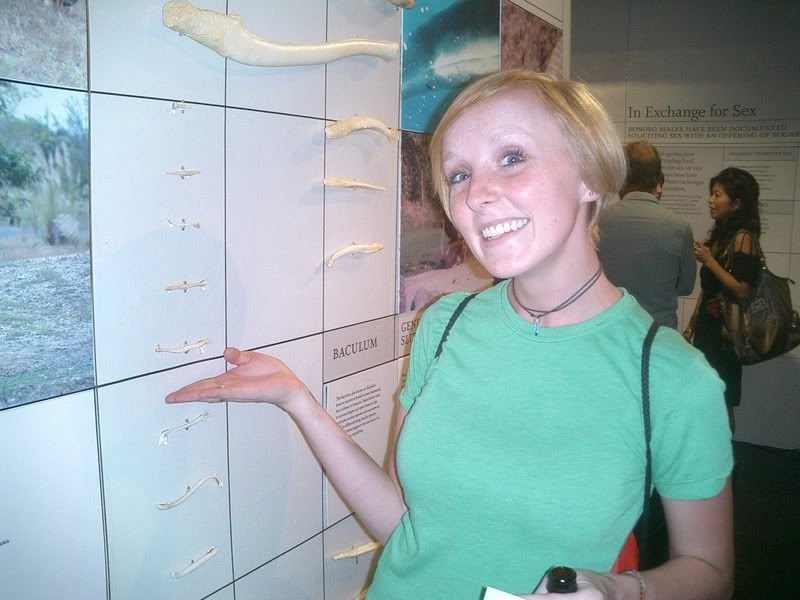 Our new friend Megan demonstrating the size of my ex-boyfriend's penis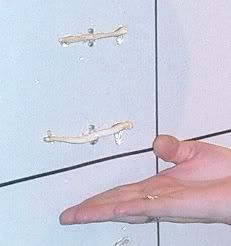 (Actual Size)
~SILENT AUCTION ITEMS WE REALLY WANTED TO WIN~
-Lunch for four with
Dr. Ruth Westheimer
(oh the fun we could have had!)
-Basket of
Babeland
goodies. Because you can never have enough Babeland goodies.
-Striptease lessons.
~ITEMS ON OUR TO-BUY LIST~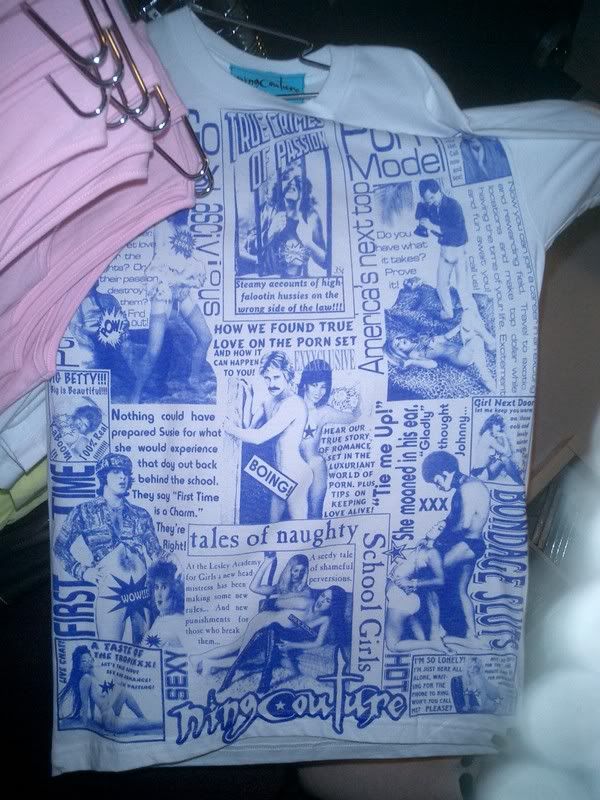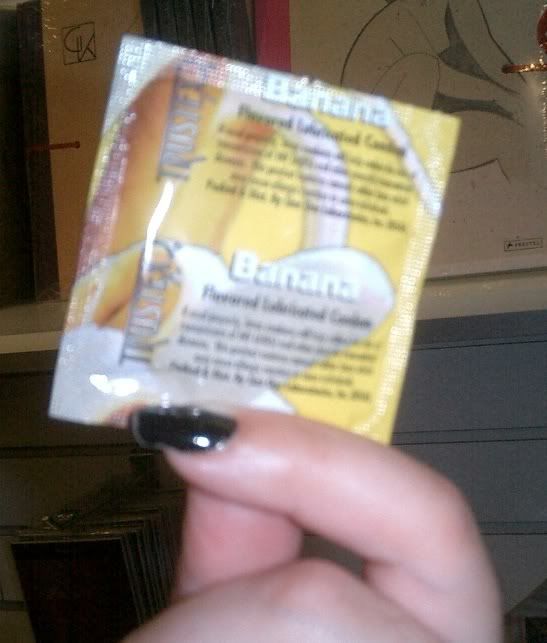 Chiquita

, we found a little something for you too.




Overall we had a really great time on Tuesday night and hope to see you all at Planned Parenthood's
next
event! "SUPPORT THE PLANNED PARENTHOOD!"
Related Posts
: