Okay, so this doesn't really strictly fit the guidelines of the Biden feminism watch, but we were inspired by the new blog
Yes We Can (Hold Babies)
, which features many adorable photos of Barack Obama holding babies on the campaign trail. Like this one!
A recent entry featured this picture of Joe Biden with this line in the caption:
"I have to say, if someone were to start a
Biden
YWC(HB), this picture would definitely have to be part of the header."
We have heard the call to action and we're going to do our small part to help out with a bunch of pictures of Biden on the campaign trail with babies and kids. Let's begin, shall we?
First up, two pictures of Biden with his grandson on the trail: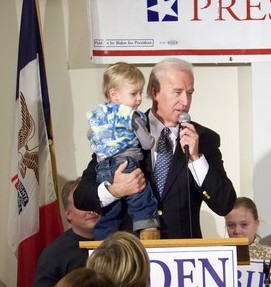 Senator Biden with sons Beau and Hunter and daughter Ashley
She's advising him on how winking during a debate is a really bad idea.
Don't worry sweetie, we won't let McCain and Palin take away your rights as a woman.
Senator Biden pledges to make sure that offshore oil drilling doesn't hurt Spongebob or Nemo.
Sarah Palin said WHAT?!?!










We'll return to your regularly scheduled Biden feminism watching tomorrow.