October is
National Breast Cancer Awareness
month. As you can see,
our website
has gone
Pink for October
in honor of this cause.
Every October a bunch of companies and organizations team up to raise awareness and funds for breast cancer research. Most of them do this by selling pink products, although some people feel this trivializes the cause and takes attention away from more important things (like actual information about breast cancer and the costs of medical care etc.) In a way I agree, but I also feel that whatever gets money to these breast cancer organizations and whatever gets awareness of the cause out to the typical man and woman on the street, is still a good thing. Perhaps not the best thing, but it's well-intentioned nonetheless. We have provided a small sampling of some of the campaigns, promotions and events happening right now. We do not necessarily endorse any of these programs; you can choose whether or not to support them.
Think Before You Pink
has devised some
critical questions
to ask yourself
before
you buy/donate. We have also provided some resources on actual breast cancer information, because that's what's really important during Breast Cancer Awareness Month.
DayRunner
has teamed up with the
City of Hope
for a "Think Pink and Make a Difference" promotion. $50,000 will be donated to City of Hope for breast cancer research, treatment and education.
QuickNotes® Wall Calendar

&

Cambridge® Business Notebook
Breast Cancer Awareness Products a
vailable at DayRunner.com

Estée Lauder
and the
Breast Cancer Research Foundation
have teamed up for the Estée Lauder Companies' Breast Cancer Awareness Campaign. Every October, the Estée Lauder Companies sponsor a number of breast cancer awareness and fundraising programs. Some of the brands participating in this campaign, by distributing pink ribbons and information materials at retail counters and also selling special Pink Ribbon beauty products to support their donations are:
Aveda
Hand Relief,
Bobbi Brown
Pink Ribbon Collection,
Bumble and bumble
Classic Hairspray,
Clinique
Moisturizing Lotion, Clinique Butter Shine Lipstick in Ribbon Pink,
Darphin
Predermine Wrinkle Corrective Serum,
Donna Karan
Cosmetics Limited-Edition Cashmere Mist Eau de Toilette Spray,
Estée Lauder
Beautiful Eau de Parfum Spray, Estée Lauder Perfectionist CP + Wrinkle Lifting Serum, Estée Lauder Evelyn Lauder Lip Color Collection, Estée Lauder Elizabeth Hurley High Gloss Lip Color Collection, Estée Lauder Jeweled Pink Ribbon Pin, Estée Lauder Pink Reflections Duet Jay Strongwater for Estée Lauder,
Jo Malone
Red Roses Cologne and Bath Oil,
La Mer
Crème de la Mer,
Lab Series
Skincare for Men Daily Moisture Defense Lotion SPF 15,
Ojon
® Revitalizing Mist,
Origins
Peace of Mind® On-the-spot relief,
Prescriptives
Pink Ribbon Collection,
Sean John Fragrances
Unforgivable Eau de Toilette Spray, Sean John Fragrances Unforgivable Woman Eau de Toilette Spray, Tommy Hilfiger Toiletries Dreaming Tommy Hilfiger Eau de Parfum Spray with Charm, Tommy Hilfiger Toiletries Hilfiger Eau de Toilette Cologne Spray.
Bella's Bites:

Smooth semi-sweet chocolate with a rich chocolate coating,
topped with breast cancer ribbon sugar candy charms (made with natural food dye).
Almost too cute too eat.

Almost.

Available at

www.BellasConfections.com




New Balance
has had a long-running (
pun intended
) partership with
Susan G. Komen for the Cure
. Their Lace Up For the Cure® Collection contains high-quality performance footwear, apparel and accessories that feature a pink ribbon. 15% of wholesale sales will be contributed to Susan G. Komen for the Cure (with a guaranteed minimum donation of $500,000 up to a maximum of $1 million).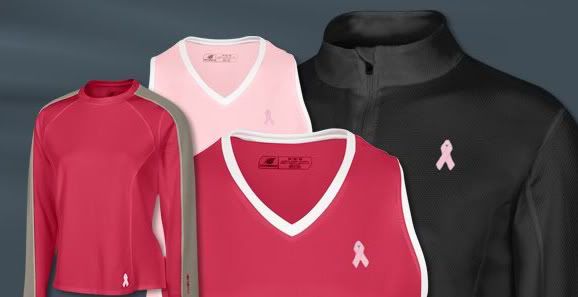 For a list of retailers of the "Lace Up For The Cure" Collection: Click here


KitchenAid
has also teamed up with Komen, for their ongoing
Cook for the Cure
and
Pass the Plate
programs. During 2008, KitchenAid will make a donation for every pink product purchased (a minimum of $1,000,000) to Susan G. Komen for the Cure.
During September and October,
Red Envelope
is donating 10% of sales of certain "give pink" items to Susan G. Komen for the Cure (
up to $10,000).
Year-round,
eBags
donates 10% of retails sales of any "Pick Pink" product to Susan G. Komen for the Cre. We were also pleased to see that theyoffered helpful links on breast exams, breast cancer facts, etc. on their shopping page.
Since July 2004,
eBags
customers have helped to raise more than $500,000
for Breast Cancer research, education, screening and treatment.
Next
will donate 10% of sales from their "Forever Pink" collections to the UK's
Breast Cancer Care
(minimum donation of £20,000).
Forever Pink collection from Next
Interflora has teamed up with Breast Cancer Care, to create a new online flower shop. 12% of every purchase made from the site will be donated to Breast Cancer Care.
Wear It Pink:

Pink accessories from

Smiffy's

;



"Sweet Cheeks" knickers from Ann Summers

And of course, we can't forget our favorite "Bands for Boobs" event...
Breastival
! Organized by none other, than the infamous
raz
, this year's event will take place on Saturday, October 25 at 9:30 pm at the
House of Bricks
(
525 E. Grand Ave, Des Moines, IA 50309).
Breastival is a Breast Cancer Awareness benefit, but this is not your mother's bake sale. There will be live music from local bands, door prizes, a silent auction and the beautiful breatival babes.
This year's line-up includes Rocket Transfer (
alternative rock/pop)
, Dark Mirror (
metal with classic rock roots)
and Human Epidemic (
metal with a mix of screaming and clean vocals)
.
A list of donations and prizes is coming to their website soon... but we
can
tell you that
we, the Evil Slut Clique, have donated a super special gift basket that you know you want to win!
Just a sampling of items in the Evil Slut Clique's donation to
Breastival
After today, we will no longer be Pink for October. Why? October is also
Domestic Violence Awareness Month
and
GLBT History Month
. So for the rest of the month we will be going
purple
for October. We are still supporting and honoring the breast cancer awareness cause, however it's not the only important issue facing women today. We hope that you will all support
all
three of these
causes this October, in addition to all the other important issues women - and men - face
every month
.
Related Posts: