We had
such
a great weekend at
WAM!
(and week in Boston). We remembered how "popular" the
day-in-the-life
format was (heh), so we figured we'd just give you a timeline of what we did, what we thought, and who we met, chock full of lots of links. For the record, we didn't liveblog any of this. We don't do that. (We know ourselves - we'd either lose patience halfway through, or get too into the liveblog and forget to, you know, actually pay full attention to the workshop.) And obviously, we weren't able to attend
every
session, as they ran concurrently. Some really awesome people
were
kind enough to liveblog direct from WAM! You can check out some lists of them
here
and
here
...
Thur. March 26
10:00 am -
The journey begins... We're on our way! Our first train ride of the day on the Long Island Railroad.
11:45 am -
Waiting at Penn Station.
Amtrak is delayed as usual. What
else
is new?
1:30 pm -
Diligently study the WAM! schedule and bios.
2:00 pm - Read Cosmo (for research purposes only, of course).
2:02 pm -
Already have found at least four blog ideas based on offensive articles in the magazine. And that's not even including
this one
.
2:00-4:oo pm -
Annoy everyone on the train by being our loud and obnoxious selves. We never ever sit in the Quiet Car.
4:00 pm -
Oh my god are we there yet!?
4:30 pm
-
Finally get to South Station. Time for our third train of the day. The ticket machines aren't working properly, which doesn't help our crankiness. Although we must say that the Boston trains are much more festive than the New York subway.
Pretty pretty subway
5:00 pm
- Get to the Marriott. Buy snowglobe souvenir at the gift shop. (Hey, you gotta bring something home to the kiddies, right?) and go check out the room. Don't be jealous of our gorgeous view!
our beautiful view
5:20 pm -
We don't have VH1 or E! on the television. We do have 4 separate ESPNs, the NFL Network (only Jezebel is excited about this), the Speed Network, and the apparently-this-exists NASA Network. Oh, and the Hallmark Channel. Consider switching hotels.
5:40 pm
- End up watching Headline News segment about
Plan B access for teenagers
. Yell at television (just getting ourselves psyched up for WAM!)
5:42 pm -
Wonder if 'agreeance' is actually a word? We think it should be 'agreement', but apparently the Headline News host disagrees. You
could
say that we are not in agreeance.
6:15 pm -
Useless
twitter
updates.
6:16 pm -
See twitter update about the
Evening with Sarah Haskins
being sold out.
6:16-6:26 pm -
Freak out.
6:30 pm -
Pay $6 to get on the hotel's communal computer to confirm that we are in fact already granted access to Sarah Haskins with our registration for WAM! Sigh of relief.
7:00 pm -
Corona at the hotel restaurant/bar. Just what we needed. Add some greasy food and now we couldn't be happier.
Our inspiration
8:30 pm -
Sadly, the restaurant doesn't have any chocolate desserts. We are understandably outraged.
9:00 pm -
Splurge and order dessert from room service, watch really bad TV.
9:45 pm -
Discuss whether we might need to make a reservation for breakfast the next morning or not...
9:46 pm -
The phone rings. The front desk would like to know if we need anything. We confirm that reservations for breakfast are not necessary, as it won't likely be too crowded that early. We are now convinced that the hotel staff is stalking us and has bugged our room.
10:45-11:45 pm-
Despite being very tired and having a big day ahead of us the next morning, we stay up late to watch the end of
Donnie Darko
. We're not sure why. Also not sure why they are making
a sequel to Donnie Darko
starring Chuck Bass, Nathan Scott, Jessie Spano, Rhonda from
Big Love
, and that girl from
Step Up 2 The Streets
. Guess we'll revisit that question when the Oscar nominations come out. (Yes, these are the thoughts that keep us up at night).
Fri. March 27
9:00 am -
We're way too tired. This is all
Donnie Darko
's fault. Damn you Gyllenhaal!
9:30 am -
Breakfast at the hotel restaurant.
baby condiments
10:30 am -
Get to the MIT Stata Center and immediately meet Caitlin Rogers of
Wisecrack
. This is cosmic fate as we were already in the process of preparing a
comic
for submission.
1:00-1:50 pm -
Lunch. Chat with some interesting bloggers from all over including Marcella Chester from
Abyss2Hope
. Explain why we call ourselves "evil sluts" for the first of many, many times this weekend. Predict how many times we will drop the line "it's tongue in cheek" before our heads explode.
2:00-4:45 pm -
Afternoon In-Depth PR Workshop - Developing a Comprehensive Media Strategy with Ina Howard-Parker (
Represent Agency
). This session was really great. We learned a lot and also got to hear about the various PR issues other people in the group were having, such as
Andrea Bredbeck
and Maria Jett from
Bitch

magazine
who, like us, deals with having a "controversial" name.
5:30 pm - On our way back to the hotel, a woman who was in the PR session leans in as she passed and calls us "Bitches". "No, we're the sluts!" we answer. Nowhere else could that exchange be okay.
7:00-8:00 pm -
Benefit Reception. We go straight to the wine... and then realize we just brushed past
Sarah Haskins
! Immediately revert to foolish, starry-eyed school girl: "It's
you
..." (giggle). So much for playing it cool. We later have a great chat with her about lots of cool stuff, including how much we loved her
date with Ken
. We loved her before, but we're now officially fan girls for life. We apprehend Veronica Arreola while she's trying to get something to eat. "You
wrote about the word 'slut'
because of us!" We chatted with lots of other interesting women, including Jo Beaton from the
International Museum of Women
.
8:10 pm
- Already feel inadequate and trivial compared to these women.
9:00 pm
- Feelings of inadequacy and triviality confirmed, although they start to merge with feelings of inspiration!
10:00 pm -
We've established a "last 15 minutes rule" of movie-watching... If we only watch the last 15 minutes, then we come away thinking it was a decent film. If we watch the whole movie, then we come away annoyed and wondering why we wasted our time. Examples that helped us prove this rule:
Sex and the City
and
What Happens in Vegas
.
Sat. March 28
8:30 am -
Continental breakfast. Or really, just bagels and juice and coffee... but we'll take it. Especially the coffee. Continue to blame Gyllenhaal for our tiredness.
12:30 pm -
Lunch. Chitchat with
George K. Stamas
(one of the few men present at WAM!) His blog is called "my G-spot" so we don't feel the need to justify "Evil Slutopia" as much as usual.
6:00-7:30 pm -
Although we really wanted to see
HOUNDDOG
(including a Q&A with filmmaker Deborah Kampmeier) we just need to have a decent meal
more
and with a packed schedule this is the only time to do it. Eat dinner with Maria from
Bitch

magazine
. We adore her and at her insistence, are planning on submitting something to
Bitch
sometime soon.
7:30 pm -
We realize that there's a dance competition going on at the hotel!
Wonder how difficult it would be to sneak into the ballroom to watch. (Hilarious pic of the dance team during a fire alarm evacuation blatantly stolen from Sarah Haskin's twitter:
here
)
8:00-9:00 pm -
An Evening with Sarah Haskins! Yay! Sarah Haskins! Woooh!!! Okay, sorry. Just had to get that out of our systems. Her presentation is hilarious and brilliant and yeah, we love her a lot.
9:45 pm - Debate whether or not we should go to the WAM! Party (co-presented by QWOC+ Boston).
9:50 pm - "Yeah let's go."
10:00 pm - "But wait, we're really tired."
10:10 pm - "But it'll be fun, yeah let's go!"
10:15 pm - Start to get ready for the party.
10:16 pm - Realize we really are too tired and need our rest. Damn you Gyllenhaal!

10:30 pm -
Set wakeup call for tomorrow. Instinctively start singing "Wake me up before you go go..." Realize that we're singing a
Wham!
song on our WAM! weekend. Consider adding an explanation point to our blog name. Decide against it.
Sun. March 29
7:3o am -
We are obviously not morning people. As disappointed as we were to miss last night's party, we
know
we made the right decision. Gyllenhaal would be proud.
9:30-11:00 am -
Get Opinionated: Write and Publish Persuasive Op-Eds for a National Audience... with Catherine Orenstein, founder of the
Op-Ed Project
and Laura Mazer, managing editor of
Counterpoint Books
. The Op-Ed Project is about encouraging (and training) women to write and submit Op-Ed pieces... so we'd like to take a minute to encourage any of our readers out there to check out the site and write and submit. You have a responsibility to share what you know with the public! And sidenote: among the countless other things we learned in this session, we learned that the
New York Times
now considers "bitch" to be printable - at least it is if it's referring to
Hillary Clinton
, sigh. Make mental note to email Maria from
Bitch
and let her know! (A write up of this session is available at
The Lady Finger
.)
11:30 am-1:00 pm -
Going Group: How Blogging in Numbers Gets It Done... Latoya Peterson (Editrix of
Racialicious
), Deborah Siegel (author and
founder of
Girl w/ Pen
), Shira Tarrant, (
"The Man Files" @ Girl w/ Pen
), and
Ebony Utley
(assistant professor, author, and hip hop critic). This session really inspired us to revamp certain parts of our blog... but that's something we'll get into later on. You can check out some pics of the panel at
Shira's website
. By the way, we bought Shira's book
Men Speak Out
and it's a very good read.
1:00 pm -
Wrap-up Lunch
1:30 pm -
Officially the end of the "business" part of the trip and the beginning of the "pleasure" part. (Even though we sure had a lot of fun during the so-called "business" part).
2:00-4:00 pm -
Start working on our post-conference to do lists. Since we're really tired and our brains are on overload, this devolves into obsessively proofreading the WAM! booklet. Consider starting consulting service... or seeking therapy.
4:00 pm - 6:00 pm -
More bad TV. (Are you sensing a theme here yet?)
7:00 pm -
Walk around Harvard Square.

Who names their hair salon "Plan B"?


9:00 pm -
Meet the
Boston Brahmina
and her boyfriend for a drink. Or um, many drinks. She's awesome.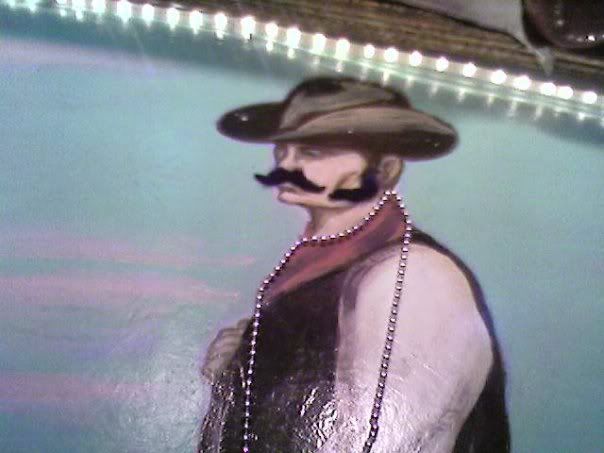 My new boyfriend / high security toilet paper
12:45 am
- Eat cold hash browns (leftover from breakfast) straight out of the mini-fridge. Why? We don't know. Could blame Gyllenhaal, but would probably be closer to the mark to blame Jose Cuervo.
Mon. March 30
10:00 am
-
Why God, Why?
10:30-11:30 am -
Breakfast. On our first free morning (that is, nothing WAM!-related to rush off to) we have a long, leisurely breakfast and stuff ourselves to the extreme, mostly with bacon. Again: Why God, Why?
11:30 am-2:30 pm -
Watch bad TV. When did
Seventh Heaven
add a
monkey
to the cast? (And when did the Camdens get so fucked up? It's like a bad soap opera, only with less sex). This is what happens when we don't have access to our regular channels: we end up watching the Hallmark Channel. We also watched an episode of
Touched by an Angel
and
What Not to Wear
. Oh the shame.
2:30 pm -
Take "What kind of feminist are you?" quiz in
Shameless magazine
.
3:00-5:00 pm -
More bad TV. There are literally three
Law & Order
s on at the same time. Headline News is stupid yet again.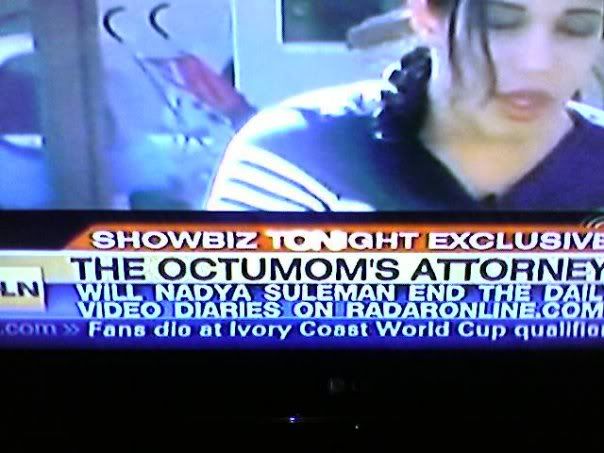 "Octumom"? With a 'u'? Really?
6:00-7:00 pm -
Go hang out in
Faneuil Hall
and check out Quincy Market. We went to Cheers (nobody knew our name) and ponder deep questions such as "why is there so much damn brick in Boston!?"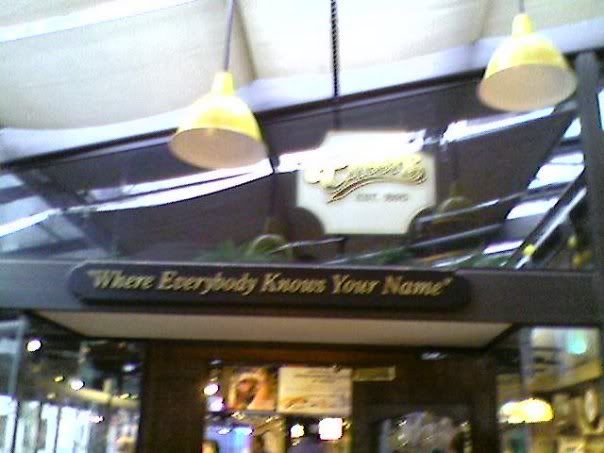 Cheers!
7:00 pm -
Meet Lilith's friend from high school at Hennessy's. Finally have some Boston Clam Chowder (it's like, a rule) and Boston Cream Pie.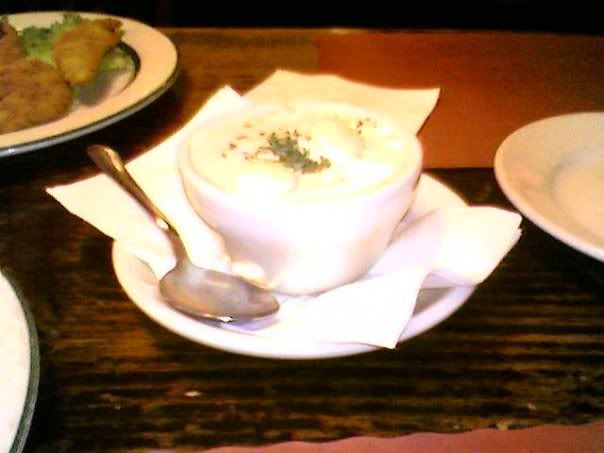 New England Clam Chowda!
7:01-9:45 pm -
Drink many, many, many beers
.
Debate the relative lameness of Facebook vs. Twitter obsession. It's a tie. Decide to start up a non-profit organization with the acronym COCKSLAP™. (We haven't quite decided what that's going to be an acronym for yet, but we're thinking something like "Communities Organizing for Cultural Knowledge
and Social Liberation Among People", or
something like that
).
9:45-11:00 pm -
Go to
Dick's Last Resort
. Witness the waitress yell at everyone and refuse to do separate checks for anybody and we love her immediately. (Makes us feel like we're back home in New York). Drink many more beers.
Dick's!
11:15 pm - 12:15 am -
Back to hotel bar to drink more. Discuss the
Mapparium
with our bartender. He has no idea what it is.
Mapparium
1:00 am -
Drink approximately 17 bottles of water and then ZZZZZZZZZZ.
Tues. March 31
9:30 am -
Why are we awake!?
11:30 am-12:00 pm -
Lunch
1:00 pm -
Pre-packing stress. Decide to pack later.
2:00 pm -
Mapparium
and the
Mary Baker Eddy Library
. We wish that the other WAM!mers had known about this place - as we think it would have been very inspiring (and cheap).
Mary Baker Eddy awesomeness
3:00-3:45 pm -
Walk around the Back Bay area. Enjoy beautiful weather.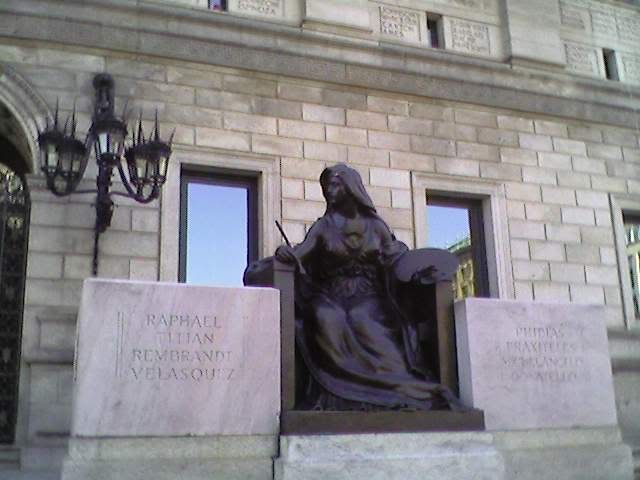 Boston Public Library
4:00 pm -
Back to our hotel room to pack.
4:01 pm -
Get distracted by
stupid Keanu Reeves movie
.
6:00 pm -
Some moderate packing progress is made. Still more to go. We're sad that it's our last night in Boston, but we realize that we were almost out of clean clothes anyway.
7:30 pm - 8:30 pm -
Walk around Cambridge area a bit (it's our last chance!) before going to dinner at Legal Seafood. We're seated next to a big fish tank full of creepy, ugly looking fish who stare at us as if to say "I see what you're doing. Why are you eating my cousins? Let my people go!"
Quit staring at me.
8:40 pm - 9:40 pm -
We order three - yes three - desserts
to go
. Don't judge us. We deserve it! We then proceed to sit on the floor of our hotel room, eating three desserts until we're sick. Feel free to judge us now. Text Chiquita, who is confused and thinks we're literally eating dessert
off the floor
. Please, we're classy and we have manners, that's why we didn't eat on the bed.
11:30 pm -
Okay, maybe we should finish packing already!? Hm. Our luggage must have shrunk while we were here. Couldn't possibly have anything to do with new packing challenges like trying to fit in the "Big Ass Beer" glass that we somehow acquired at Dick's Last Resort next to our new copy of
The Purity Myth
.
Gee, I wonder why we're having trouble packing?
Wed. April 1
11:15 am -
We're officially on our way out of Boston. Bye!
12:15 pm -
We can't believe the train is not delayed. This must be some kind of trick.
1:00 pm -
Try to read new issue of
Cosmo.
(Again, for research).
1:01 pm -
Immediately start to feel sick. Not sure if it's from reading on a bumpy train or just from reading
Cosmo
.
1:30 pm -
Get text message from co-worker who wants to know when I'll be back in. "I'm still technically on vacation! You're not allowed to bother me for a few more hours!!!"
4:30 pm -
"
Mr. Met
" is there to greet us when we arrive in Penn Station. It's official. We're back in New York.
We plan on bringing you all even more WAM!-inspired blogs in the weeks to come, including a recommended reading list. There were
a lot
of really great people that we met that are not included in our write-up, either because we didn't get their info or we just are too brain dead to realize we left them out! (So if you're not in here, don't take it personally!!) But definitely look forward to some more WAM!-inspired awesomeness soon. If you liveblogged any of the sessions we mentioned above or have anything else to add, let us know!