We got a really late start on our BlogHer wrap-up... partly because we were so exhausted from our week in Chicago... and partly because the research for the
Nikon blog
took so much time. (Thanks again to everyone who helped us fill in the blanks, by the way).
We knew that we'd be too busy with the conference to explore Chicago, so we bookended our trip with a few extra days to just hang out, unofficially. We arrived in Chicago on
Tuesday
the 21st. (The flight was uneventful; we spent most of it watching
Daisy of Love
on VH1). After checking in and pretending to unpack, we spent the early evening walking around the "Magnificent Mile". We went back to the hotel for dinner but were overwhelmed by the prices at
Shula's Steakhouse
and
really
disappointed in the
Chicago Burger Company
. Bleeeech! We had such high expectations because we received about a
zillion
emails from the Sheraton telling us to try it. But
no thank you
, if we wanted to eat somewhere that looked like a mall food court... we'd go to a mall food court. And we know our food courts, being from Long Island and all.
So we ended up eating dinner at Pizzeria Due (you know,
Due
... as in "
Uno
, Due...") because we felt like we should do something stereotypically 'Chicago' and what's more Chicago than deep dish pizza.
Wednesday,
after breakfast at
LB Bistro
and a brief stop-in at NBC to pitch them our new Evil Slut Clique TV show idea, we spent the whole beautiful day at Navy Pier.
We like monuments that look like body parts.
We even went to the
Museum of Stained Glass Windows
("Oh look, this one has Jesus on it, what a surprise"). No really, we did. [
At this point I'll just say that I went to Catholic school for 14 years, so while the stained glass was beautiful, after awhile it was like "okay, I've seen plenty of this, time to move on".
] This was also the day that we sent Lil'Lilith a postcard. [
The only reason I'm mentioning it is because it arrived on the Wednesday after we got back home. Yeah, WTF?
]
Wednesday evening we went to
Goose Island Brewery
for dinner with Arvan from
SexGenderBody
because "I know that you girls like beer, right?" Apparently our ultra-classy reputation precedes us. We also checked out Millennium Park (
pretty
) and did a brief 'driving tour' of Chicago.
Then we went back to the hotel and hung out in the
Chi Bar
a bit and in the lobby... mingling with all the BlogHer early arrivals. We were
so
excited to meet
Deb on the Rocks
! Our conversation went a little like this: "Hi, I'm Deb" / "Deb........ on the rocks?" / "Deb on the rocks" / "It's Deb! On the rocks!"
On
Thursday
, after a brief lunch at
P.J. Clarke's
(down the street from the hotel) we went in search of the very specific snowglobe that Lil' Lilith had requested. After trying 4 different souvenir shops, we finally found it at the
Double Tree
hotel's giftshop. Hooray for the '
double-lollipops
'!
Thursday afternoon we walked over to the Hyatt for the Social Luxe Lounge party. (Sponsored by Swiffer; hosted by
Petit Elefant
,
Hostess With The Mostess
,
This Week for Dinner
,
Make and Takes
,
Momfluential
and
Rolemommy
) What an awesome party - the food and drinks were great (the "Swiffer Clean-tini" aka some kind of apple martini-ish drink was delish!) and
talk about swag
. Wowsers. It was lots of fun and one of us even got suckered into presenting an award. [
Oops.
] And in hindsight, we think this was
the
most organized party of the week... especially when it came to the distribution of the swag bags. Seriously, ladies you should
all
definitely look to them as your party-planning rolemodels for next year. At least
we
will.
We stopped back in at our hotel room to drop off our
heavy
swag bags (ouch, this was the beginning of what we'd like to call "swag shoulder syndrome") and then headed downstairs to the People's Party. (Sponsored by Sprout; hosted by
The Bloggess
;
IzzyMom
;
Motherbumper
;
Mrs. Fussypants
;
Playgroups Are No Place For Children
and
Velveteen Mind
). This party was a little more 'mom-centric' as most of the sponsors present seemed to be for kids stuff (oh you should've seen the woman at the Disney/Barnum & Bailey table when she asked the name of our blog) but it was still fun. For a few minutes. But then the claustrophobia just got too strong... it was out of control. We didn't last too long at that party. Luckily there was a sort of spillover party going on in the hall outside the room, so we still got to do some mingling.
Finally, we went to the third party of the evening... one that was, um, a
little
less organized
than the others. The Room 704 party (hosted by
VDog
,
Mrs. Flinger
,
Kaiser Mommy
,
Sarcastic Mom
and
MamaSpohr
) was the definition of chaos. We arrived a little before the 10:30 start time and saw people walking away with (stolen) swag bags... which I think is pretty uncool,
but
unfortunately I guess it was inevitable since the hostesses weren't there early regulating. (But after this we're willing to bet that they'll be cracking down next year.) Poor Drew from
Eden Fantasys
(one of the party's sponsors) was stuck holding back the angry mob of bloggers alone for quite some time. It was supposed to be 'first come first serve' for the swag bags, but without some sort of organizational plan in place, that can turn into 'whoever can shove the strongest' really easily. In their defense, we will say that they got stuck with a really awkward location - rather than being in a specific room, they were sorta in the lobby between the two bars - which made it really hard to keep the partiers organized and keep the non-partiers/swag thieves out.
Thanks to
Briar
, who somehow got shoved to the front while we got shoved to the back (sigh) we were able to get swag bags after all, but the whole thing left us feeling claustrophobic and cranky. We also heard a rumor that a baby got
elbowed in the head
, which is only funny (in a 'what the hell is wrong with people?' sort of way) if the baby is okay afterward (which we assume is the case, but we're holding our laughter until we know for sure).
After the swag frenzy, we were able to get a drink and chill out and talk to people, but we couldn't handle the crowd after awhile so we retired to our room to order pizza and watch bad TV. (We learned that
nothing
is sexier to the cute guys checking into the hotel than two bloggers coming to the lobby to pick up their pizza wearing half dress clothes and half pajamas. Sweat us). We got a case of the giggles back in the room and ended up just laughing hysterically for 3.5 hours. So hard in fact that
one
of us fell out of bed. Yeah. You can use your imagination to guess who. [
Okay, it was me.
] [
My very heroic attempt to save her was foiled instantly when I stepped off the bed and immediately tripped over a huge swag bag.
]
BlogHer officially began
Friday
morning with breakfast and 'speed dating'. We finally got to meet
BlueGal
! Yay! It was vituperative foul-mouthed blogger of the left love at first sight. This was also the beginning of us having to explain approximately 75,000 times exactly what it is that we blog about.
Our first workshop session at 10:30 was
Business of You: Bloggers are Pioneers in a Post-"Employee" World
(sponsored by HP). The panel consisted of
Maggie Fox
,
Melissa Lion
(
love
her),
Karen Rani Bodkin
,
Paula Gregorowicz
and
Kaveri Subbarao
and focused on using blogs as a jumping off point for freelancing,
consulting
, starting businesses, etc. We would've liked for this session to focus a
little
more on the actual nuts-and-bolts of launching a blog-based business than on the whole "I'm afraid to put myself out there" aspect. (Clearly,
we
don't need that shit). But overall it was a really useful workshop. Live blog
here
.
After the first session we had a 'Super-Raguuuuu Lunch'. We call it that because Ragu sponsored the lunch and while the food (all recipes using Ragu) was delicious it was soooo red and yellow it felt like we were in McDonald's or something. Fancy McDonald's.
After lunch we checked out the Expo Hall, which is where all of the conference's sponsors set up shop. It was...overwhelming. We entered contests, picked up some more swag, chatted with some reps from different companies, and joked around about which companies would never in a million years have anything to do with a blog called Evil Slutopia. Although the people from Strawberry Shortcake seemed very interested - guess we're a good fit now that they've
totally tarted her up
. (In case anyone has no sense of humor at all and/or happens to be a lawyer for Ms. Shortcake's parent company, we're kidding about that last part.)
We also stopped by the McDonald's booth to thank them for

supporting the gay agenda

. They really didn't know how to respond to that, but we know they were grateful.





At 1:15 we

tried

to go to the

Business of You: Brands and Bloggers

session, but it was so crowded that we couldn't handle it. (It went well beyond 'standing room only'... there wasn't even standing room). That pretty much

sucked

because that was the

only

session at that time period that we were even remotely interested it. No offense to the other panelists... but it wasn't for us. We obviously don't need to do the '

MommyBlogging

track', we don't have

any

problem with our

identity (hello,

evil sluts!), and we already took the

Writing Your Op-Ed

class at

WAM! (which by the way, was

amazing

). So we went back to the room to chill and watch Bones

and blog about

Demi Lovato

. Not exactly the best use of our time and money, but eh, we were contented. But next year BlogHer - our suggestion is

bigger rooms

! (This will be a recurring theme throughout this blog, as you soon shall see).





At 2:45 we went to

Leadership: What is "Pro-Woman" in a Post-Palin World?

Yay! Finally

our

people! Or um... half our people and half people who made us clench our fists and bite our tongues. It was great to see

Veronica Arreola

again! The other panelists were 'conservative libertarian'

Emily Zanotti

and conservative

Fausta Wertz

; the session was moderated by feminist

Danielle Henderson

. A lot of what was said in that room

really

pissed us off, a lot of it made us think, and a lot of it made us nod our head and say "yeah... yeah..." (I think our readers can figure out which types of things would elicit which types of responses, heh).





We were discussing whether or not Sarah Palin is a 'feminist' (obviously, it is our opinion that

she isn't

but you know what, she can call herself whatever the hell she wants... it isn't going to make us support her just because she happens to be female) and more importantly, whether or not, we as women should support her merely because she's a woman. Fausta suggested that we shouldn't let the fact that we disagree with her politics be a reason not to support her, but um... why not? Isn't that

exactly

why we shouldn't support her... because we don't agree with her politics.





BlogHer co-founder

Lisa Stone

suggested that Sarah Palin represents some kind of working class middle of the country "I didn't get a passport handed to me at my graduation" thing. That was really problematic for us, seeing as it's pretty much just buying into a major stereotype of the 'coastal blue state elite' or whatever. We're from New York and we weren't

handed

passports by anyone either. (And we also weren't trying to be Vice President).





Despite the large amount of conservative women at BlogHer, we definitely found the liberal feminists in the crowd. We were disappointed when this session ended - although proud of ourselves for not throwing any chairs and impressed by the way all participants were able to stay civil - and hope that next year BlogHer will have more opportunities for political and feminist discussions. Live blog:

here (although a lot is missing from this recap, sigh... a lot).

After the session we really needed a drink, so BlueGal treated us to cocktails at the
Java Bar
. After a few minutes, a bunch of the conservative bloggers from the session showed up at the bar too. Guess that's one thing we agreed on. Then we headed over to the
Community Keynote
where a selection of
diverse bloggers
read their work. Some made us think, some made us laugh, some made us cry (or at least they
would've
made us cry, if we weren't such cold heartless bitches).
Then it was off to the BlogHer
Cocktail Party
at 6:30, sponsored by Pepsi Co. We loaded up on yummy food and random assorted cocktails. We met lots of cool people, like
Cunning Minx
and so many more! We witnessed Mrs. Potato Head dancing with the SoBe Lizard, while a rep from GM sang "Baby Got Back" on karaoke. Yes, it was
that
kind of night.
Then it was off to the
Crimson Lounge/Hotel Sax
for the
Queerosphere
party (hosted by
Deb on the Rocks
; sponsored by Sweet, 3 Smart Girlz, Queerly Wed, Hot Blog Stars and Select Virtual Assistant) We knew that if we were really looking for 'our people' at BlogHer, we had to look no further than the closest GLBTQ party! Deb was doing 'Straight Girl Outreach' apparently, because there were a
lot
of us there... We had a great time and met a lot of awesome people. Definitely one of our favorite parties of the weekend.
We shared a cab back from the Crimson Lounge (the whole five blocks - can you say
lazy
? And well, okay, it was also raining) to the hotel with
Sherry
and
Kathrin
and then went over to check out the Mommy Needs a Cocktail Party (hosted by Kristen of
Mommy Needs a Cocktail
) and MamaPopRocks!: A Sparklecorn Extravaganza (sponsored by Dove, Typepad/SixApart, Federated Media, bTrendie and Yahoo; hosted by the
MamaPop Crew
). They happened to be next door to each other, so we found ourselves going back and forth between the two. Mommy Needs a Cocktail had a chocolate fountain and MamaPopRocks! had a unicorn cake... so we were very happy.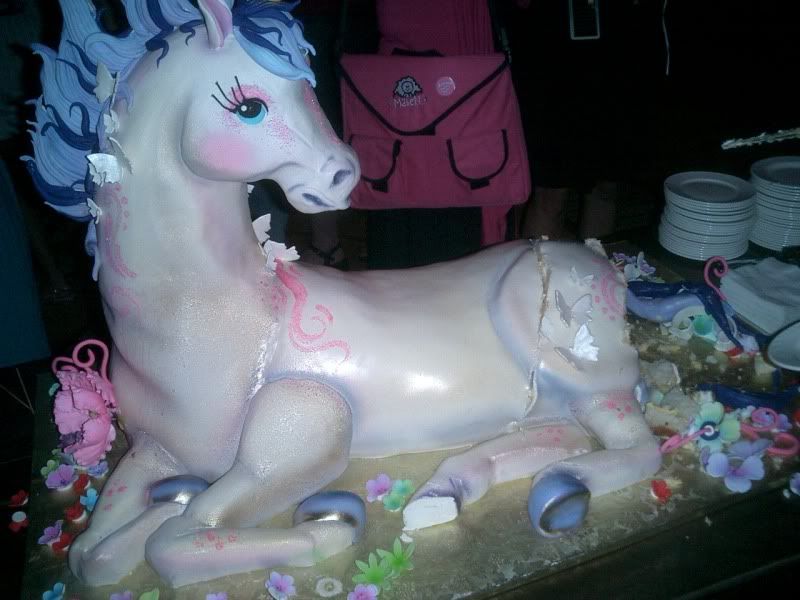 The butt always goes first.
We finally made our way back up to our room with our ouchie feet... but not before stopping in at the room of
MommyGoggles
and
MommyMandy
to score some more free swag stuff (hey, they
offered
) and then all get yelled at by our neighbor for being "just incredibly rude". Seriously, we're such loudmouths, we were
shocked
that was the first time we got in trouble. Although, in our defense, we were talking at a normal volume and we didn't know that Ms. Crankypants was in her room trying to sleep, since it seemed like the entire hotel was still down in the ballrooms partying. So totally not our fault.
On
Saturday
, we were lucky enough to eat breakfast with
Linda Lowen
! Yay! We love her - and not just because she raved about how awesome we are - it was seriously a stroke of fate that we randomly sat down at the same table. We had a great conversation.
The morning Keynote address was
Traditional Media Chops meet a New Media Calling
. Lisa Stone interviewed Tina Brown of the
The Daily Beast
, Donna Byrd of
The Root
and Ilene Chaiken, creator of "
The L Word
" and
OurChart.com
. It was definitely a thought-provoking discussion, and we think Bluegal's
take on it
is worth reading.
At 10:45 we went to the first session of the day,
Leadership: Hope and Change in Action
, with an amazing panel of inspirational women...
Gina McCauley
, founder of Blogging While Brown,
Kathrin Ivanovic
, creator of The Diversity Projekt and
Naomi Hirabayashi
from the New York City Changemakers (moderated by
Jessica Ferris
). It's going to be hard to do the session justice with a little 'recap' so let's just say it was amazing. Live blog
here
. Like we said above, we're hoping that next year's BlogHer will have even more panels along the politics/activism lines.
After lunch (no Ragu this time, boo) we crammed into
Women Writing In The Age Of Britney: Pop Culture & Gossip & Feministy Stuff, Oh My
with the ladies of
MamaPop
: Tracey of
Sweetney
, Amy of
Amalah
and Catherine of
Her Bad Mother
. No idea why they had it in such a tiny room, seriously. The group tackled questions about what gossip is, whether it can be a valuable thing to write about, and where the lines should be drawn in writing about celebrities. Live blog
here
.
The next panel,
Dying is Easy, ROTFLMAO Comedy is Hard: It's two, two, two comedy panels in one!
, was in the same room, so luckily we were able to scamper to the front and grab ourselves an actual chair. (Really BlogHer... what's the deal?) This was definitely the funniest panel of the weekend (duh) including Anna from
Life Just Keeps Getting Weirder
, Deb from
Deb on the Rocks
, Jenny from
The Bloggess
, Jessica from
Bernthis
, Kelcey from
The Mama Bird Diaries
and Wendi from the self-named
Wendi Aarons
. This session was so good it even inspired its own twitter hashtag
#blogherhumor
in order to try to get BlogHer to create a humor writing section! Live blog
here
. It was the perfect session to end with.
Then it was more drinks with BlueGal (noticing a theme here? We drank a lot at BlogHer) before the
Closing Keynote
with
Elisa Camahort Page
,
Raney Aronson-Rath
,
Eszter Hargittai
and
danah boyd
. Then another
Cocktail Party
, this one surprisingly devoid of anything vegetarian. I mean,
really
? (We love bacon too much to be vegetarians ourselves, but we did notice.) We had a few drinks and had some fun talking to lots of cool bloggers, like
Rock&RollMama
. We skipped the BowlHer party (sorry) but we did stop by the
Queen of Spain
's room to trade our "Rush Limbaugh Can Suck It" and "Evil Slut Clique" stickers for some of her "#suckit" stickers. We love her.
Then we finished off the festivities with the
CheeseburgHer Party
(sponsored by McDonald's & Dr. Pepper; hosted by
Alphamom
, Lena of
Cheeky Lotus
, Lindsay of
Suburban Turmoil
, and Yvonne of
Joy Unexpected
). This party was in the Presidential Suite (ooh fancy). Nothing is better after a night of drinking than McDonalds. Nothing. (And few things are funnier after a night of drinking than a whole suite full of people eating cheeseburgers with McDonald's bags on their heads.) Although apparently New York is the only place on earth where they don't put mustard on cheeseburgers. We love New York. We felt like we were starting to crash, so we took off to go to bed... but by some odd stroke of fate, we ended up staying up til 4am. Why? The world may never know. But we're sure Ms. Crankypants down the hall was
thrilled
if she could hear us laughing and carrying on.
On
Sunday
, we rolled out of bed around 10 - it
still
felt too early - and very very slowly made our way back to the Presidential Suite for the Recovery Breakfast (sponsored by Starbucks; hosted by
Alphamom
, Lena of
Cheeky Lotus
, Lindsay of
Suburban Turmoil
, and Yvonne of
Joy Unexpected
). Jezebel was
very
happy to have her coffee and Lilith was excited to drink actual real orange juice, after a weekend of that nasty Trop50 stuff. (Sorry PepsiCo, you know we love you and your support of the gay agenda... but that stuff just is
not
OJ).
Then we spent the
entire
day packing. Or you know, looking at our suitcase, then at our big pile of swag, then back at the suitcase again and again. Packing is hard. We did
not
anticipate how hard it would be. We ordered pizza halfway through and then finally had to get OUT of the room so we walked over to Rock Bottom Brewery. (We went there in honor of
Chiquita
). We were so tired and
loopy
that we're surprised we didn't get kicked out for being loud and laughing too much. Sadly, after dinner we had to get right back to packing. It took us til 4am to finish. Yeah, we had
that
much free stuff.
And there's nothing like calling the front desk at 4am to request a wakeup call for...7am. (And another at 7:30, consider it a
snooze
wakeup call). Luckily our trip home was pretty uneventful, so we didn't have to get all the way to Full Cranky. Partial thanks for this goes to the smart planning of the JetBlue terminal at O'Hare, where they have a Starbucks rightthereinfrontofyou as soon as you get through security.
One of these days we might go through all
the free swag
and write a little 'Best of the Free Stuff' blog. We're not getting paid or anything, but we did get some awesome stuff and some less-than-awesome stuff, so it might be fun to give you a list. Well, fun or your brains might explode... one or the other. And we now have so many travel USB drives that our computers will probably yell at us "stop sticking things in me!" One of these days we're going to put together a little 'rejected swag' gift bag for one of our lucky readers... stay tuned!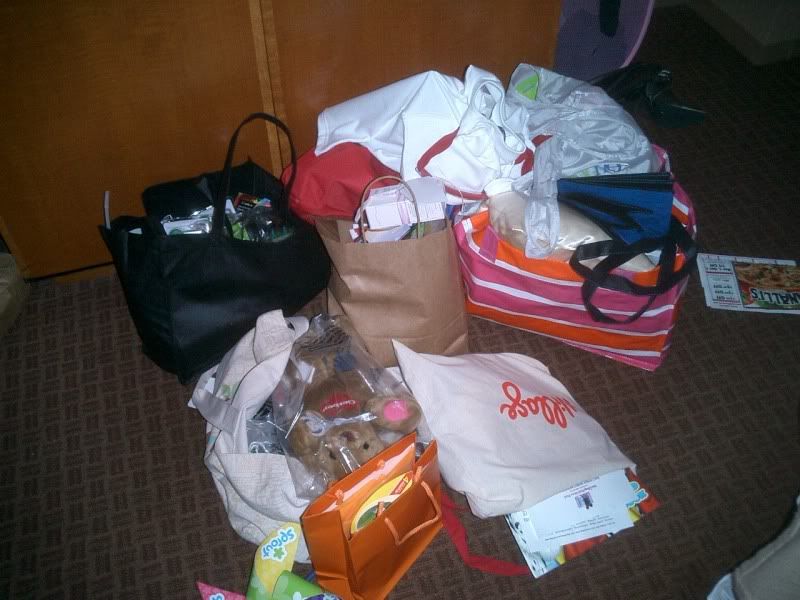 We have even more business cards than free swag items... so obviously we couldn't possibly fit
everyone
into one blog entry. If we didn't mention you, that doesn't mean we don't love you... it just means we haven't gotten around to it yet. Hell, we still haven't completely finished unpacking! But we have had time to start planning
BlogHer '10
domination, since the conference is moving to New York City next year. See you in 2010!
If you still haven't heard enough about BlogHer and you're just dying for more, here are a few of our favorite recaps: