We're especially excited about this one, you guys. Check it out: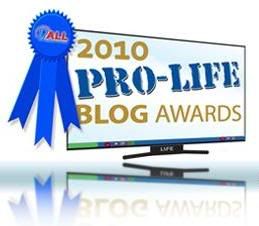 Okay, yeah, we're obviously just fucking around this time. Aside from the official blogs of pro-choice organizations like NARAL and Planned Parenthood, Evil Slutopia is probably the last blog that would ever be nominated for this award.
The
Pro-Life Blog Awards
are a creation of the American Life League, and while we have written about them
quite a few times
in the past, it wasn't exactly in a way that would inspire them to give us any awards. But one thing I will say for these awards - the prize for the winner is pretty cool (or at least, cool for someone who's actually pro-life):
Most total votes across all categories will receive the Best Overall Pro-Life Blog. The Best Overall winner will receive hotel accommodations for two nights and three days (January 20-22, 2010) in the middle of the action and excitement of the 2010 American Life League Training and Activism Week and Personhood Conference.

At the Washington Court Hotel, located in the heart of Washington, D.C., near the Capitol and Union Station, you'll be a featured guest at American Life League's Personhood Conference only steps away from D.C.'s national treasures and historic sites, you'll be in the very center of the pro-life movement's largest annual demonstration.

The Best Overall winner will be notified by Dec. 21. All Pro-Life Blog Award winners will be officially announced and recognized at the Pro-Life Blog Award Dinner at ALL's Training and Activism Week and Personhood Conference Jan. 20, 2010, amid the nation's top pro-life leaders and pioneers for the personhood of all human beings, from the moment of creation until natural death.
Just for the record, we're not suggesting that anyone nominate us for this award as a joke. We'd be annoyed if any anti-choicers tried that with a pro-choice blog award. But speaking of that, where are the pro-choice and feminist blog awards? We don't really know of any major ones, but maybe we're just out of the loop.
Should we just go ahead and start up our own Evil Slutty Blog Awards? The prize can be...um, you come to New York and we buy you a Corona? Who wouldn't want that, right?
Okay, so this brilliant plan needs a little work. In the meantime, enlighten us in the comments if you know of any feminist/pro-choice/generally awesome blog awards out there. Partly because we want to be able to start calling ourselves an
award-winning blog
, but also because there's so much great work being done every day by feminist bloggers that really deserves to be recognized whenever possible.