So we haven't written anything about these Olympics yet. That's not because we haven't been watching. It's because, at least for me, I'm too obsessed with the fabulous American figure skater (and reality TV star) Johnny Weir to write about anything else. I've decided it's about time for me to declare him an honorary member of the Evil Slut Clique.
Of course I love his skating - he's talented, artistic, and beautiful on the ice. I also love the crazy, creative costumes that he designs himself. He's smart and articulate - well-spoken in multiple languages, including the Russian that he taught himself. He's hilarious. But beyond all of that, what really makes him ESC material is the fact that he's totally confident in who he is, he's outspoken and honest, he does what's right for him and he doesn't care what anyone else thinks. He's just generally awesome and yeah, okay, I'm going total fangirl now so I'll just shut up and get to some quotes and pictures and videos and other fun stuff.
Johnny Weir On Pushing Boundaries and Being Yourself
"I want to be remembered as somebody who pushed the boundaries of my sport. I want people to remember that I was a great talent on the ice and that I did everything a little bit different than everybody else. But at the same time, I want people to remember that I was able to speak my mind. I was able to voice my opinions about things and had no problems with that. In my own way, I've brought a lot of people into figure skating. Maybe it's not the way that my federation or most mainstream people would want it to be, but that's how I've done it. And I hope that more young athletes, not just figure skaters, but especially figure skaters, will be able to be themselves, or say what they want and never be afraid of anything, or anyone. I hope that's my mark." [
Seattle Times
via
Sunfiltered
]
Your killer attitude and costumes have raised some eyebrows in the skating community. Why do you think you're so controversial?
Figure skating is very old fashioned and staid. The people in power are several decades older than the people they are judging, which makes things tense when somebody like me comes along. I respect my elders, but I don't feel a need to appease them. I don't play by anyone's rules but my own. That's why it's controversial when I say and wear things that are deemed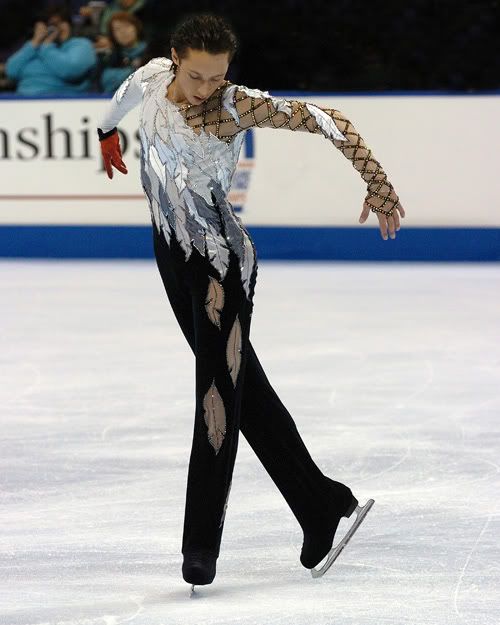 inappropriate. I hope in my own way that I've helped the next generation of athletes to feel comfortable being themselves and flying their freak flags high. [
VanityFair.com
]
"You have to be powerful in yourself and make your own decisions and make your own mistakes and fall down and climb back up by yourself. No one's gonna be there when you're down, they only want you when you're up. So you have to learn everything by yourself and do everything by yourself...the only thing I can control is the way I skate." [
ESPN Outside the Lines
]
"It's not me to stuff myself behind a wall and speak only when spoken to. If I have an opinion, I'll say it. If I don't like something, I'll definitely tell you I don't like it. And that's from the way I was brought up. My mother's very outspoken. She and my father both taught me, you know, you have to be yourself. You live one time. Be yourself, do what makes you happy, have fun, and enjoy your life. Don't be afraid of anybody. I mean, nobody is gonna kill me for saying what I want, just, you know, they may have an issue with it. And I'm strong enough to deal with being myself 100% of the time." [
WEBN
]
"I think I was just born Johnny Weir, and I like to show people that. I've never been one to follow in someone else's footsteps or try to mimic somebody, or believe really in role models. Of course people that I admire, but not so much a role model. I think it's important for everyone to live their life as themselves and be happy with the choices that they make, what they wear, what image they project. Just be yourself. And that's what inspires me, I want to be myself until the day I die, and I never want to change anything for somebody that doesn't really matter in my life." [
Yahoo! Sports
]
"I want to be judged by who I am, not what I am...I am Johnny Weir. Judge me the way you see me, love me the way you see me, hate me the way you see me." [
ESPN Outside the Lines
]
"I walk on water. Well, frozen water."
Johnny Weir On Masculinity
"I don't think it's unfair to say that I take the best of masculinity and femininity and put it together in some kind of Johnny Weir mixture." [Be Good Johnny Weir, Ep. 104]
With our toenails cut and polished and our feet wrapped in bags of liquid wax so warm and pleasant that, Weir assures me, I will pee my pants (fortunately, this proves to be an exaggeration), we move to the other side of the salon for manicures. What, Weir asks, would be wrong with joining my wife for a pedicure or manicure? In truth, there are many reasons, the primary ones being that I'm a slob and that I'm cheap.
I respond, however, with the first thought that comes to mind: "Well, it's never seemed very manly."
"There is nothing not manly about taking care of your appearance," Weir insists as the manicurists begin work on his fingernails. "Taking care of your skin, shaving, smelling good. Making sure your nails are nice. You don't need to get them polished, but getting them cut, getting them filed, soaking them, getting them soft. Not like manly, gross, dry, callused hands." [
ESPN Outside the Lines
]
"For me, I'm lucky that I've traveled so much of the world and seen so many things and for me, masculinity is completely subjective. Here, a male ballet dancer would get beat up and left on the side of the road. But in Russia, he is No. 1, he is what a man is. That kind of passion and control. In Japan, masculinity is making sure your hair is completely gelled and coiffed and that you're dressed and decked to the nines. Masculinity is what you make it out to be. Here in the U.S., not everyone feels the same way...
...Most people…would say masculinity is a football player or, you know, the hotheaded, strong-minded businessman. Something like that," Weir says. "That's masculine here, but around the world, it changes, depending as far as where you are or what the culture is. For me, I skate as masculine as I can. I'm not a big strong guy. I'm not interested in fighting or throwing punches or balling my hands in fists all day. I'm not interested in guns, I'm not interested in football or stereotypically masculine things, so I'm going to skate in a fashion that is manly for Johnny Weir.
"That's kind of a strange answer, but that's my opinion. Masculinity is exactly what you make it." [
ESPN Outside the Lines
]
What makeup item should every self-respecting man own?
Blot powder or concealer. I don't consider looking like a shiny mess manly. Men need to understand the importance of their skin and beauty regime; there's nothing not-masculine about taking care of yourself. The face you present to the world is the most important one. [
BellaSugar
]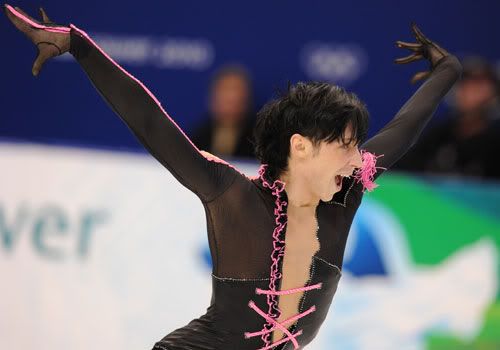 OS: What are your thoughts on Skate Canada's efforts to "butch up" figure skating? Will more people watch if the face of figure skating suddenly becomes more masculine?
Johnny: I don't think any facelift for my sport will change the viewers who are watching. I don't think turning figure skating into some kind of X-Games event will promote figure skating to the male population of especially North America, but also the world. This kind of talk has been going around for some time, about making the men more masculine and the women more feminine. But it's not figure skating if you don't have the freedom to express yourself and make something beautiful. That's my goal every time I get new music and get new costumes: to tell a story and to put on a show. To butch up figure skating is a ridiculous idea, because there's no putting me in some two-piece pants suit to skate in. [Laughs.] I love my glitter, I love my prettiness, I love getting my hair done before the events, I love putting on makeup because I'm going to be on TV. I know
Elvis Stojko
was a big proponent for butching up men's skating, but I have a hard time taking suggestions from a man who rocked purple pajamas in the Olympic Games and World championships. In my opinion, anyone who wants to change the actual people who are doing the figure skating can suck it. [
OutSports.com
]
You're right at the heart of this, Johnny. Men's skating should be more "butch".
I don't agree. I think everyone is their own individual self. I am an effeminate person. I like sparkly things, I like the theater of figure skating. But in no way does that make me less macho than somebody that gets out there in a muscle shirt and tattoos with grease stains or whatever.
Do you think the fact that some people dismiss figure skating as gay hurts the sport?
I know for the men's population of the United States, figure skating is a "gay sport", and that's a misconception. There are so many straight athletes in figure skating. But I think it's the music and costumes that turn most men off, because they want to see...well they want to see spandex-ed men hitting each others' ass and throwing a ball. It's
very different
. [
HBO Real Sports
]
Johnny Weir on Being a Good American and Citizen of the World
I am a firm believer that being a good American and being a good ambassador means being a citizen of the world and appreciating all cultures. I happen to love Russia and I happen to love America. I see no issue in that. [
VanityFair.com
]
I can say that since I've started traveling when I was 13 to countries around the world, I've always had a very open mind. I've been very culturally aware of the countries that I go to. I research every country that I go to before I go to it, so I'm prepared, and I know what's up, I know what people are like, I learn a few words in their language. I think people can appreciate that and they understand that I'm there because I want to be there, I love being in their country. Having the support come from them is something that's amazing to me when I'm just doing something that I enjoy. I'm a figure skater, I'm traveling around the world, it's a great life in that sense.
When you go to these countries and you're closed-minded, and you stay in the hotel room, I mean, people can sense that. People can feel that you're uncomfortable there. But I try to be as comfortable as I can with fans, with everyone as I can be...And especially with how America is viewed throughout the world at this moment, nobody is expecting anything less than an "ugly American." when the American shows up at a competition. And that's just from news and propaganda, but still, it goes deep even to figure skating, so if I can give back in any way I can, I do it, and I think that that speaks volumes. [
LifeSkate.com
]
You consider that to be a good American is to be sort of a citizen of the world. What have you gained from your travels?
I've seen so many things in this world that the average person doesn't get to see. I mean, I've danced on the Great Wall of China, and spun around decked out in full fur in Red Square, and, you know, gone on the lift wearing a beret in the Eiffel Tower. I mean, I've done all of these things, and I'm only 25, and it really brings to my mind what the world is all about. And for me to be a good American is to appreciate the world that we live in and the fact that, unless you're an Apache or a Navajo or something, you're not really an American. You come from all these places. And people forget that, and I like knowing where I've come from and knowing where the rest of the people in my country have come from. I mean, we're built on other countries, on the backs of other countries.
So for me, being a good American is appreciating the world, not just your country. I love my country to death, and that's something that people often mistake, because I am very pro-world and pro-Russia and pro-Korea, pro-Japan. I'm pro-everything, just because I realize that, you know, the world is the world because of all these places that make it up. And America's wonderful and beautiful because we're made up of the world - it's like a tiny Earth inside the Earth. That's my country, and I'm proud of it. I'm proud when I represent my country, and I go into competitions and I see my flag, and that it's 'Johnny Weir from the United States of America'. I'm very proud of that, but at the same time for me, to be a proud American is to be a proud citizen of the world. [
ESPN Outside the Lines
]
Johnny Weir On His Critics
"I've never seen a point in pleasing other people. I know that a lot of people, especially the more Republican style people, are very afraid of what I mean to the sport and what I'm going to say, what kind of revolutionary crazy thing is going to come out of my mouth. And, you know, good for them. They should be scared.
...I'm not for everybody. There are going to be people that like you and people that hate you, and there's nothing that I can do...My harshest critic would probably just say that I'm full of air and fluff and I don't mean things that I say, but for now, my critics can eat it. I want people to remember me as someone that pushed the envelope, pushed the boundaries of the United States figure skating establishment. I can't change anyone's mind about me except my own, and I'm happy with who Johnny Weir is." [
video
]
What do you say to your critics?
Suck it. [
VanityFair.com
]
In an interview with
Dorothy Hamill on
Access Hollywood
earlier this week, Johnny responded to some idiotic homophobic comments made by a couple of Canadian broadcasters:
The same flamboyance that makes many fans adore the skater also often makes him a target. Two Canadian broadcasters even went after Johnny on the air. Dorothy read him their quotes.





"They think all the boys that skate will end up like him," a visibly upset Dorothy said. "It sets a bad example...

We should make him pass a gender test at this point," Dorothy read, getting very choked up at the broadcasters' homophobic comments. "What do you think of that?"


"

Every little boy should be so lucky as to turn into me

," Johnny said without batting an eyelash. "And that's all I have to say."

This afternoon, Johnny held a press conference to address the stupid comments in more detail:
"I grew my beard out today to show that I am a man, at the end of the day," said the 25 year old USA competitor...Weir opened the press conference by thanking his fans for their outpouring of love and support. He also said that when he heard the derogatory comments made by the two reporters, he felt "pissed off" and defiant. He admitted to feeling that way because the criticisms were directed at him personally and not at him as an athlete and Olympic contender.
He said he chose to speak out about this issue not because he wants an apology, he believes, he said, in freedom of speech and that people have the right to voice their opinions, but he said that he felt it was important to set a strong example for the boys and girls who will follow.
No one should be made to feel like a freak or a weirdo," he said. "I just hope that more boys and girls have parents like me who allow their children to be an individual. It's definitely the time for freedom. Time to be unique and to believe in themselves," he said expressing that this is the message he feels is most important to impart to the younger generations.

"Out of ugly, the most important thing in life is to make something beautiful," said Weir. "The only thing I ever wanted from this figure skating craziness was to perform, to perform my art." [Green Blog Network]

"I want them to think before they speak. I want them to think about not only the person they're talking about, but also other people like that person," he said. "What people as a majority need to do is think, and think about who they're affecting. ... I don't want, 50 years from now, more boys and girls to go through this same thing." [Washington Post]
And on another very serious topic, check out this clip from Johnny's reality show, Be Good Johnny Weir, in which Johnny corrects best friend Paris's cheese-eating technique:
Miscellaneous Awesome
"I want everyone to taste cotton candy when they see me skate." [
WEBN
]
"I hope I'm wine. I may not be as reliable as steak or as easy as vegetables, but I'll mess you up if you've had enough of me." [
OregonLive.com
]
OS: How many sequins are too many?
Johnny: What kind of question is that? There are never too many. [
OutSports.com
]
At a benefit for Figure Skating in Harlem, a program that provides young girls with free figure skating lessons and academic tutoring, Johnny was asked what he thinks figure skating teaches to the girls:
"It definitely teaches discipline. It teaches finding a way deep down inside yourself to achieve a goal. And figure skating builds you a thick skin, and I think for anybody, and especially women, you have to have a thick skin to go out into this world. Men, it's documented that we have it easier in some ways, and women need that thick skin, and in general they end up doing their jobs much better than any man could ever do it. And that's from learning at an early age to be strong and independent, and understanding you." [
LifeSkate.com
]
Johnny's roommate in the athlete's village in Vancouver is ice dancer Tanith Belbin, and he pretty much sounds like the best roommate ever:
"I definitely can make any village work now," Weir said. "I'm in a place where every room can work - especially if you have a giant Lady Gaga picture, anywhere can work...She needs to be there watching over us, protecting us." [
Washington Post
]
"I was only in there five minutes but it smelled so nice, there were Audrey Hepburn posters up for inspiration, motivational quotes on the wall, and all my clothes had been put away," Belbin said. [
IceNetwork.com
]
A few years ago Johnny appeared on My Life on the D List with Kathy Griffin, and hilarity obviously ensued.
And in a recent
Details profile
, Johnny described his reputation as "diva bitch whore from hell". Enough said.
Johnny Weir Does Lady Gaga
If you haven't seen this yet, your life is incomplete. If you have, you know that it never gets old. Either way, make with the clicking now please.
Want More Johnny?
~
Follow Johnny on Twitter.
~Become a fan on
facebook
.
~Check out the official sites for his documentary,
Pop Star on Ice
, and for his reality show,
Be Good Johnny Weir
, which airs on the Sundance Channel.
~Some wonderful person has created a
Fuck Yeah! Johnny Weir
tumblr.
~Of course there's a
'Lady Gaga or Johnny Weir?' costume quiz
.
~Last but not least,
Johnny's official site
.