Have you ever wondered how Cosmo constantly comes up with so many tips and insights about guys and relationships? It must take a lot of research and investigation, right? Well...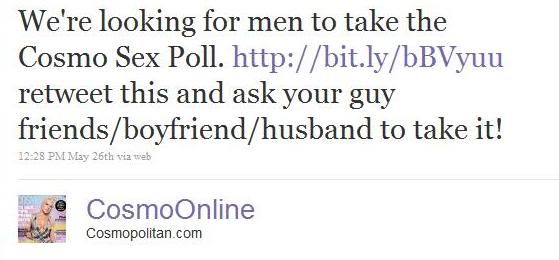 Oh. Okay. My first thought was how Cosmo could be sure that only guys were going to answer this poll, but I'm sure they have some kind of measures in place to address that.
I thought about
taking this poll
myself just for fun and to mess with Cosmo's results, but then I saw that it said "Guys Only" in bold and I turned away defeated. Well played, Cosmo. Of course, we're still going to make fun of the questions here.

Well, these two outfits are just so vastly different that I'm sure many guys would have a hard time choosing. A short skirt or a short dress? Decisions, decisions. And I guess "sweet, yet revealing" is another example of the arbitrary line that Cosmo loves to draw between "sexy" and "skanky".

Cosmo just cannot figure out how they feel about
sexting
. One month they're saying it's fun and fearless and a great tip, your guy will think you're a sex goddess, etc., and the next month they're warning you that it's not a good idea. So think long and hard before you answer this one, guys, it's
important
.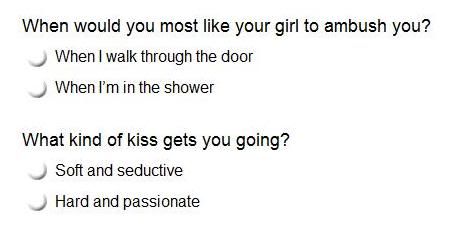 I'm sure you've noticed by now that there are only two choices for all of these stupid questions. I guess they were smart to leave out "all of the above" and "none of the above" as options, because 99% of guys probably would have chosen one of those for the majority of these questions, and then they wouldn't be able to get any
fake
insightful sex tips out of this.
Just picture it. Questions like these...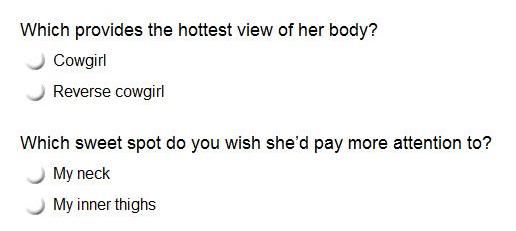 ...are going to end up in Cosmo as statements like "in our latest sex poll, 75% of guys said that woman on top is their favorite sex position". They'll leave out the fact that it's actually only the "favorite" out of the
two
choices that they were given. and that the poll was conducted anonymously and randomly online so there's no way of knowing how many real answers from guys they actually got. And yes, I know it's just Cosmo and none of you are basing your sex life decisions on these "statistics" anyway. But it's the principle of the thing, damn it!
Then there are the questions that sound like they were written by someone whose sexual experience is limited to reading bad fan fiction.



If "do me now" works for you, more power to you, but I can't imagine saying that (or hearing it) in the moment without laughing.


I'm so glad they clarified "backdoor" in the second question, cause for a second there I was really confused by their
immature
goofy
hip slang. I can't wait to see if this research translates into an upcoming article with Cosmo-style "backdoor sex" tips.

Of course, this question assumes that he hasn't already tried these things. Actually, many of these questions assume that the guys answering them have pretty vanilla sex lives. And obviously I'm not saying there's anything wrong with it if they do, I just always have to laugh when Cosmo acts like they're being all edgy and scandalous by suggesting things that barely qualify as kinky.

I'm sure the fact that "threesome" isn't one of the choices was just a clerical error.